The New Garmin Fenix 5 Plus
What makes the Fenix 5 Plus different from the old models?
Garmin just announced a new line of Fenix 5 Plus multisport GPS watches that look very similar to the Fenix-series watches that were released last year, but the new models have a number of significant improvements that set them apart. This post highlights the new features and provides a side-by-side comparison with last year's models so you can easily see what's new.
If you're not familiar, the Fenix line of watches consists of three models: the 5S, 5, and 5X. They are each different sizes, with the 5S being the smallest (42 mm), the 5 being mid-sized (47 mm), and the 5X being the largest (51 mm). Because the 5X has more physical girth, it has a few more features and longer battery life than the others.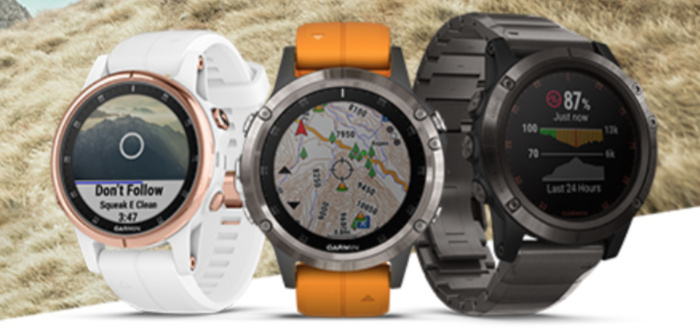 Here are the standout features that all of the new Plus models share:
Color mapping (previously this was only on the Fenix 5X)
The ability to store and playback music
Garmin Pay (for contactless transactions)
Galileo GPS (for improved accuracy)
GPS that locks to the altitude to elevation data in maps
There are several more features in addition to these, such as new privacy features for smart notifications, maps that use Garmin's "trendline popularity" feature when making routes (which will put you on more running and cycling friendly routes), and the antennas have been improved to be more reliable with third-party sensors, such as the Stryd footpod. The new Fenix 5 Plus watches are also significantly more expensive and start at $700 USD.
All of these watches feature direct auto-sync with SportTracks. When you complete a workout, it will automatically be uploaded to SportTracks for analysis, and so you can see how your recent efforts are influencing your Training Load and Performance charts, so you can most effectively prepare for a race.
If you are primarily interested in music capabilities, you should read our Running Watches with Music post, which covers every available sports watch that has music features. It is worth mentioning that the Fenix 5 Plus models are compatible with Spotify.
Side-By-Side Comparison
Changes have been made to all of the bezels and bands of the three new Fenix models. Here is what's different on each one starting with the Fenix 5S Plus: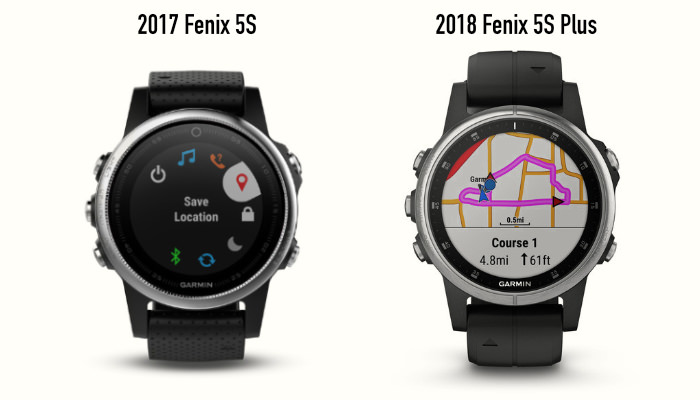 As you can see above, the new Fenix 5S Plus features a slightly different bezel design than the previous model, and the band is also slightly different. What's less obvious is that the screen on the new 5S Plus is a little larger at 1.2" (30.4 mm) whereas last year's model was 1.1" (27.94 mm). It appears that a compromise in battery life was made in order to bring the new features to this watch:
| | | |
| --- | --- | --- |
|   | 2017 Fenix 5S | 2018 Fenix 5S Plus |
| Smartwatch Mode | 9 days | 7 days |
| GPS Mode | 14 hours | 11 hours |
| GPS & Music Mode | N/A | 4.5 hours |
| UltraTrac Mode | 35 hours | 25 hours |
There are several different versions of the Fenix 5S Plus available with upgrades to sapphire glass, rose gold bezel and accents, and various band and body colors.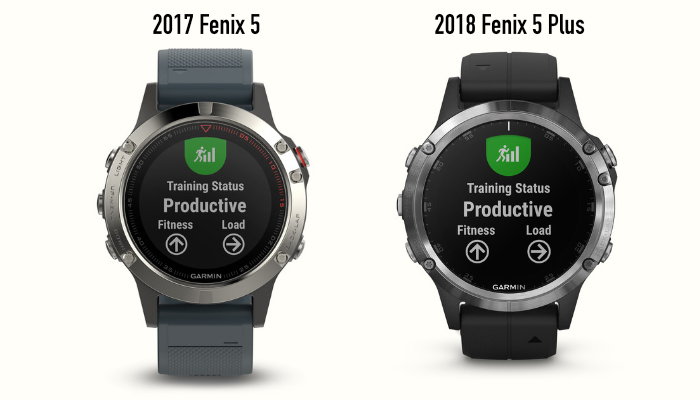 As you can see above, slight changes have been made to the bezel of the new Fenix 5 Plus, and it too has a different wristband. The screen size, however, is unchanged from the previous year at 1.2" (30.4 mm). The new Fenix 5 Plus is slightly heavier at 86 g (compared to 85 g on last year's model), but the sapphire glass version of this watch features a titanium bezel that brings the weight down to 76 g. Like the 5S Plus, the battery life of the new 5 Plus is shorter than the previous model:
| | | |
| --- | --- | --- |
|   | 2017 Fenix 5 | 2018 Fenix 5 Plus |
| Smartwatch Mode | 14 days | 12 days |
| GPS Mode | 24 hours | 18 hours |
| GPS & Music Mode | N/A | 8 hours |
| UltraTrac Mode | 60 hours | 42 hours |
Also like the 5S Plus, there are many variants of the Fenix 5 Plus available, including lightweight titanium options, and various body and band colors.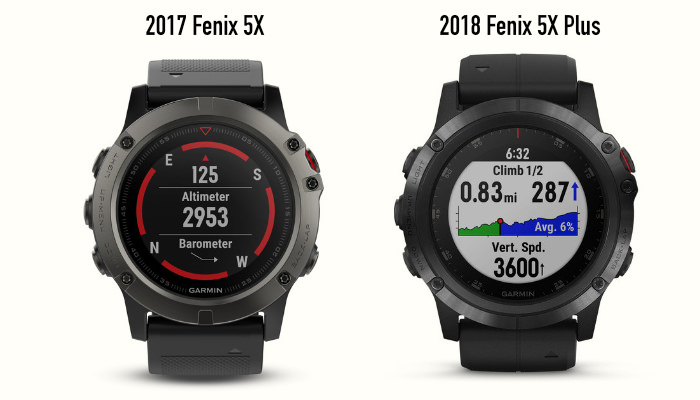 The updated bezel and band are also present on the new Fenix 5X Plus. The major advantage of this model is that it has a "Pulse Ox Acclimation" feature that utilizes an exclusive hardware sensor to measure pulse oxygen saturation levels, which can be useful for mountain climbing and other high-altitude sports. Unlike the other two models in this line, the battery life of the Fenix 5X Plus has been vastly improved:
| | | |
| --- | --- | --- |
|   | 2017 Fenix 5X | 2018 Fenix 5X Plus |
| Smartwatch Mode | 12 days | 20 days |
| GPS Mode | 20 hours | 32 hours |
| GPS & Music Mode | N/A | 13 hours |
| UltraTrac Mode | 35 hours | 70 hours |
All versions of this watch come with sapphire glass, but an upgraded model also features a titanium bezel and decreased weight.
Wrap up...
Every Fenix 5 Plus model comes with 16 GB of storage for color maps, music, and Connect IQ apps. They do inventive things like using the onboard map data to calibrate the built-in altimeter. They're waterproof and ready to join you on all of your activities.
The Fenix series is a great solution for active people who want a dressy watch that they can wear at the office and in meetings, as well as in the water, on the bike, and during runs. This is what differentiates this series from more sporty-looking watches like the Garmin 935. Whether a Fenix 5 Plus is worth the additional cost is up to you.
Article written by Sam Mallery, Director of Marketing, Zone Five Software Inc.