Using Stryd with SportTracks
How to use the Stryd Running Power Meter with Garmin and Suunto
We're super excited to announce that SportTracks is compatible with data from the Stryd running power meter, and that we offer an array of incredibly detailed running power analysis tools! Whether you run with a Garmin or Suunto watch, the iSmoothRun iPhone app, or Stryd's mobile app — you can easily access your power data in SportTracks.
This article provides a brief overview of Stryd and running power data, it highlights all of the power analysis tools in SportTracks, and it explains how to transfer running power workouts from Garmin and Sunnto watches, iSmoothRun, and the Stryd smartphone app.
Feel free to use this menu for navigation:
What is Stryd?
Stryd is part of a new breed of fitness devices that enable you to monitor and record running power data. In the cycling world, power revolutionized training and racing, and it's finally arrived for runners.
Power data is unique because it isn't skewed by weather, terrain, or your physical condition — unlike pace and heart rate. Power is a valuable breakthrough for runners because it provides an accurate representation of your actual effort. It's used to improve efficiency, let you know how much energy you're using, and to give you an idea of how much you've got left to get to the finish line.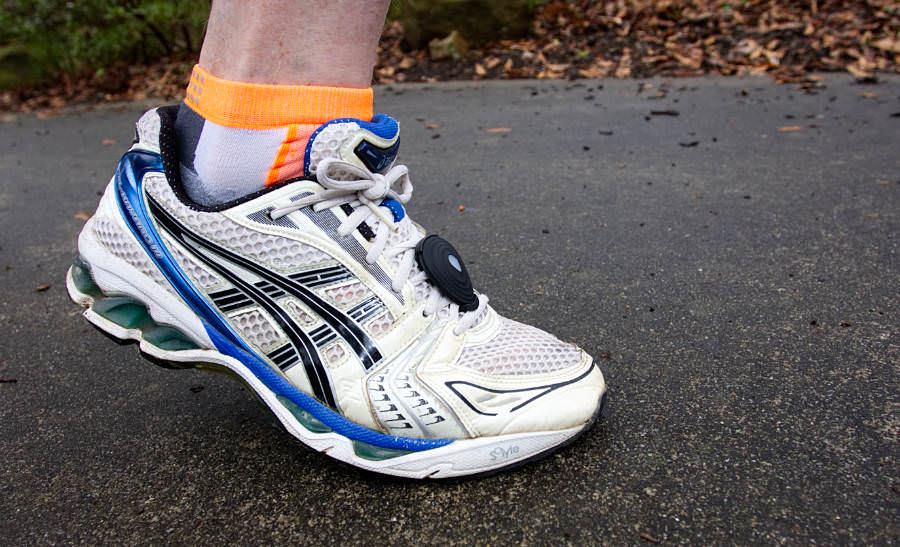 The current version of Stryd is a small foot pod. In addition to providing power data, it also records running dynamics (vertical oscillation, ground contact time, and cadence). An earlier version of Stryd was a chest-strap style device, and that model is also compatible with SportTracks.
How is Stryd data used in SportTracks?
SportTracks displays power, vertical oscillation, ground contact time, and cadence on the Workout Detail page. You can overlay this Stryd data with other metrics (heart rate, pace, etc.). In the Total Blocks section at the top, you can scroll through avg power, nPower, watts/kg, and Max power. You can also easily highlight an interval to get the metrics just for that segment.
If you want to get even more granular, you can click on the Segment Details button after you highlight an interval. This brings you to a screen where you can review zones and averages for power, VO, GCT, cadence, pace, heart rate, and grade. When analyzing power, you can choose between watts or watts/kg, and you have the additional ability to overlay heart rate, cadence, speed or grade data.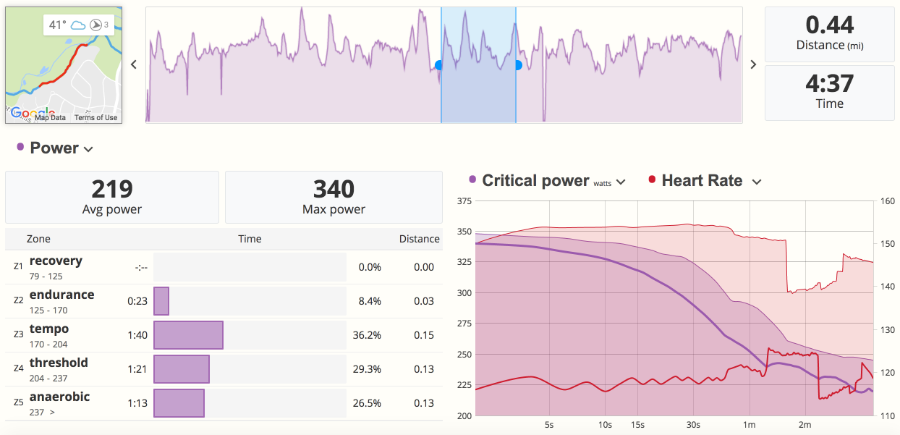 On the separate Workouts page, you can list many different power data types and compare them with a wide variety of other metrics (distance, speed, temperature, pace, heart rate, cadence, elevation and many more). This enables you to spot trends over time, and to see how your power data relates with other factors.
Selecting the gear icon in the top right corner of the Workouts page enables you to select and display the following types of power data as numbers or graphical bar charts:
Avg power
Max power
watts/kg
nPower
iFactor
Power variability
You can choose as many power data types as you want, and select as many other kinds of metrics from your workouts, too. You can move them around to adjust the order in which they're displayed. When you have the Workouts page arranged the way you want it, you can then change the hierarchy of the information by selecting items in the top row (start, time, watts/kg, etc.).
How can I monitor Stryd data in real time?
A free mobile app for iOS and Android is available from Stryd that enables you to monitor your power and running dynamics as you run, but there are also several GPS watch solutions. Being able to leave your phone at home (or tucked in a pocket) and just glance at your wrist is a nice option.
Using Stryd with Garmin watches

Stryd can be used with many current Garmin GPS watches, and a couple of older models, too. Watches that have the "Connect IQ" feature can run the Stryd CIQ app or the Stryd CIQ data screen:
The Stryd CIQ app enables you to monitor all of your power and running dynamics data on your Garmin watch in real-time (in addition to other standard metrics).
The Stryd CIQ data screen enables you to add power data monitoring to the Running activity profile on your watch, and to any structured workouts you may have imported.
All of your power and running dynamics data will be recorded and accessible in SportTracks using either of these power-monitoring methods.
The following Garmin watches have Connect IQ and are compatible with Stryd: 230, 235, 630, 645, 920XT, 935, 735XT, Fenix 3, Fenix 3 HR, Fenix 3 Chronos, Fenix 5X, Fenix 5 Plus, Fenix 5S Plus, Fenix 5X Plus, Vivoactive, Vivoactive HR, and the Vivoactive 3. Please note that the Garmin Fenix 5 and Fenix 5S are not recommended, as these two models suffer from a data-dropout issue.
The older Garmin 310 and 910XT can display and record Stryd power data when you run with the Bike sports mode, and pair the Stryd hardware with the watch via Ant+ Power.
If you have auto-sync enabled between Garmin and SportTracks, all of your data (including data from Stryd) will be automatically loaded into SportTracks when you finish your workout. You can also export FIT files from Garmin Connect and manually upload them into SportTracks.
Using Stryd with Suunto watches

Stryd is compatible with the Suunto Ambit2, Ambit3, and Spartan watches. When these workouts are loaded into SportTracks (either via auto-sync or manual upload), the power and running dynamics data from Stryd is displayed and ready for analysis.
How to use power data with the Suunto Ambit2 or Ambit3
Have your watch to search for the Stryd hardware in the Running sport profile
Go to movescount.com
Click the "Watches" link under the profile photo in the upper right corner
Find the "Sport Modes" section and locate the running mode. Click "edit"
Check the HR belt and Power POD boxes.
Save the sport mode and sync the changed settings to your watch
How to customize your Suunto watch to show power metrics
Edit the running sport mode on movescount.com (instructions above)
Click a watch face to customize the display
Switch to the Power tab and select the metrics you want to display
Click OK to save the display field, Save the sport mode and sync your watch
How to pair your Suunto with the Stryd power meter
From the watch home screen, press and hold the NEXT button
When the options screen appears, select PAIR
Select the Power POD menu option
Wait for your Stryd power meter to pair
Using power data with the Suunto Spartan
A software update in fall 2017 has made it possible to utilize the extremely accurate pace and distance metrics from Styrd with Spartan watches (in addition to power, of course). The update also makes it possible to pair Spartan watches with both a Stryd and a bike power meter, for seamless usage in multi-sport events. Instructions for setting this up can be found in this post on the Stryd blog.
Using Stryd with Polar

The Polar V800 multi-sport watch is fully compatible with Stryd, and SportTracks is fully integrated with Polar. When you complete Stryd runs with the V800, your workouts can be set to automatically upload to SportTracks.
How to get this working
Pair your V800 by selecting Settings, then General settings, then Pair and sync, and lastly Pair other device
Move your shoe around a little bit to activate Stryd
Select Stryd on the watch, and press Start to pair
You can easily set your Stryd runs to automatically upload to SportTracks by enabling our auto-sync feature. Instructions for setting this up can be found in this post.
Using Stryd with iSmoothRun
If you don't have a compatible Garmin, Suunto, or Polar watch but you do have an iPhone, there is another way to track runs with power. iSmoothRun is a paid iOS app that can be paired with Styrd hardware. iSmoothRun records power data from Stryd, and exports your entire workout directly to SportTracks using our auto-sync integration.
To get this working, first enable auto-sync between iSmoothRun and SportTracks
Open the iSmoothRun app on your iPhone
Tap Settings in the bottom right corner
Tap Social & Export
Scroll down and tap SportTracks.mobi and authorize the connection
Next, pair your Stryd hardware with iSmoothRun
Open the iSmoothRun app on your iPhone
Tap Settings in the bottom right corner
Scroll down and tap Sensors
Tap BT Smart Senors
Shake your Stryd to wake it up
iSmoothRun will scan and locate your Stryd
Tap on the word Stryd under the word Scanning
You're ready to run with power!
Using the Stryd mobile app
You can still train and race with the Stryd running power meter if you don't have a compatible GPS sports watch. Stryd provides a free mobile app for both iPhone or Android that pairs with the Stryd hardware via Bluetooth.
Using the app is straight forward: you launch it, pair it with your Stryd hardware, tap Start Training, wait for the app to connect with your Stryd hardware, then tap Start and start running. When you finish, your workout will upload to Stryd's online PowerCenter. It is then possible to download your workout from the PowerCenter and manually load it into SportTracks.
This is how to do it:
Go to the date of the workout that you want in the PowerCenter Calendar.
When you hover your cursor over the date, a download icon appears. Click on it.
The FIT file for this workout will be downloaded to your computer.
From your SportTracks dashboard, push the Add workout button in the top right corner.
On the next screen, press the Import button on the top right.
On the next screen, press the Choose File button.
Navigate to the FIT file you just downloaded, and select it.
Lastly, press the Import button.
Your workout will now be available for analysis in SportTracks. The power and running dynamics data recorded by Styrd will all be present in SportTracks.   
How can I learn how to use running power data?
There are a couple of books on the subject of running with a power meter. Jim Vance's Run with Power is a great introduction to the subject, and it's available now. Everyone at SportTracks HQ has read it, and we will publish a book review about it in the near future. 
Due to be published in May of 2017, the upcoming book The Secret of Running, Maximum Performance Gains Through Effective Power Metering and Training Analysis looks like it will be a helpful resource, too.
The Stryd Community Facebook Group is an excellent place to ask questions and engage with other Styrd users and representatives of the company.
Wrapping up
Running with a power meter is an extremely new method for tracking and improving your performance. Because of its newness, it can be a little rough around the edges. But, even in its infantile state, many runners are tapping its potential and leveraging power data to their advantage. 
Thanks for checking out this post! If you have any questions about power meter training with SportTracks, we will try our best to answer them in the Comments section below... 
Article written by Sam Mallery, Director of Marketing, Zone Five Software Inc.