Race-Day Hacks for Running
5 Important tips for success in marathons and half marathons
With a title like "Race-Day Hacks for Running", if you're reading this, chances are you or someone you know is getting ready for a big fall goal race. Lucky for you, I've done 1 or 10 of those in my day, and I have a few handy hacks to help you make the most of your marathon (or half marathon) race day experience.
Hack #1: Trust Your Training and TRUST YOUR TAPER
Once your last long run is in the books, the hay is in barn. This popular farm-centric figure of speech exists to remind us that as race day draws near, we reach a point where we've gained all the fitness we possibly can from a training cycle. This is easy to see when you look at your Training Load and Performance charts in SportTracks: your fitness level is close to peaking, and your fatigue level threatens to eclipse it if you don't get some rest.   
Once we cross this threshold (we'll define it as 2 to 4 weeks from race day) any hard efforts we do won't increase our fitness further, but they COULD contribute to feeling of burnout and fatigue on race day. That's why it's important to trust that the training you have done is sufficient for meeting your race day goals and embrace the taper in your final weeks leading up to your marathon.
"
...you get to eat a lot and catch up on your napping and Netflix binging.
For many runners, tapering is easier said than done. It often feels counterintuitive to reduce mileage, and eventually, intensity as well, as the time to prove your speed to yourself approaches. But trust me, it's better to arrive at the start line slightly under trained and over-rested than the other way around. The taper period provides your body with the critical rest it needs to repair damaged, inflamed tissues from a tough training cycle AND helps you reset and recharge psychologically so you can show up healthy and ready to kick ass on race day! Plus, you get to eat a lot and catch up on your napping and Netflix binging. I don't know about you, but I'm not really seeing a downside here.
Hack #2: Dial in Your Fueling Plan
Twenty-six miles (or thirteen miles) is a long way to go with no fuel in your tank! Hopefully, you've been practicing fueling strategies on your long runs throughout your training and keeping detailed post-workout notes about which nutrition products agree with your pallet and GI tract. SportTracks makes it easy to search these workout notes if so can always know what did and didn't work.
PRO TIP - A general rule of thumb recommends taking in around 100 calories with fluid approximately every 5 miles or 40 minutes.
Know what to expect on the course nutrition-wise by researching ahead of time what type of fuel will be available, and at exactly what mile markers you'll find the aid stations. Bear in mind that if your race course features a nutrition product that you know works well for you, you may be able to pack a little lighter and save yourself the inconvenience and embarrassment of a gel pack-shaped shorts pocket tumor, or inner-sports bra chaffing marks.
However, be advised that if you are doing a smaller race, aid stations may be few and far between and warrant carrying a hydration belt or hand-held water bottle. Whereas larger races, take Chicago or New York for example, will likely have water stations LITERALLY EVERY MILE. It's been my personal experience that major big city marathons provide sufficient access to fluid to run successfully without carrying my own water. But if you are crowd-adverse or nervous about navigating congested water stops, you may want to bring a hand-held so you can bypass crowded aid stations altogether. In any event, I do recommend packing your own gels or chews no matter what. Larger races weirdly only seem to have them at mile 17 (far too late in the game for one to begin a fueling plan). And when it's all said and done, fueling is important, highly individualized, and has the power to make or break your race experience. Don't you want to have as much control over it as possible? I know I do!
Hack #3 - Dress for Success!
Every runner who has endured summer training dreams of crispy, cool temperatures on race day. When your race date creeps into the 7-day forecast, it's a good idea to search your training history on your SportTracks Workouts page and filter the results by temperature. You will see how you preformed in the past in similar weather and set your race-day expectations appropriately. SportTracks automatically adds detailed weather data to any workout with GPS data, so you can easily do this with your 45-day free trial. Here are a few words of wisdom that will help you make the most of the race-day temperatures you are dealt.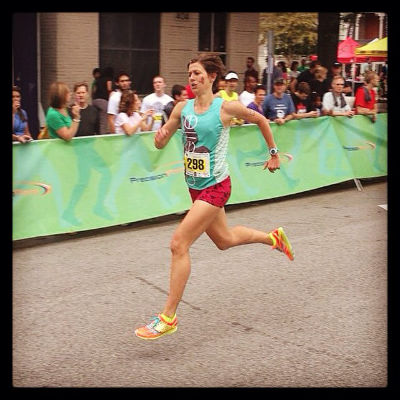 Photo of the author by Pat Price via Instagram
On the start line...
Now is the time for extravagant over-dressing in the name of staying warm. If you are doing a larger point-to-point race (pay extra-close attention to this part if you're running the New York City Marathon) you may be looking at spending several hours outside in the elements before your wave goes off. I recommend dressing in the warmest, coziest pre-race threads you can muster AND bringing some sort of something to sit on so you can chillax as much as possible while you wait. But here's the catch: both your pre-race outfit and your seat must be things that you are OK with leaving behind FOREVER once the race begins. 
If you just can't bring yourself to part with actual clothing items, the always fashionable trash bag with head hole cut or an old mylar blanket from the last race you did can provide excellent disposable warmth and/ or seating. You may also embrace race day as an opportunity to purge ancient sweat pants, fleece pullovers, and flannel shirts from your closet OR purchase the most ludicrous, outlandish warm outfit you can find from a local thrift shop to delight and entertain your fellow runners.
PRO TIP - Fluffy bathrobes and footie pajamas are super-warm and always a fan favorite! 
Races do typically donate discarded warm-up apparel to local charities, so know that as you leave it behind it will likely go on to benefit the greater good.
Once the race starts...
When selecting the outfit that you'll actually be running the race in, abide always by the "dress for temperatures 20 degrees warmer than the actual temperature" rule. So, if the actual temperature is 45 degrees, chose an outfit you would feel comfortable in at 65 degrees. 
"But Ellen, running a marathon takes a long time and significant changes in temperature may occur over the course of the race!" you say. Excellent point, my friends. That is why I recommend dressing in layers, and ideally in layers that you don't mind parting with forever. 
If you're worried about being chilly over the first few miles, make sure that your disposal warmth wardrobe includes a runnable lightweight long sleeve shirt that you're comfortable with ditching mid-run. I have also found a good pair of tube sock arm warmers to be a highly effective temporary on-the-run warmth solution. Just snip the toes off an old pair of tall socks and slide them on your arms for bonus running warmth for as long as you need!
Just remember that less is usually more when it comes to running clothes. I always prefer to feel slightly chilly rather than overheated.
Hack #4 Plan Your Race Day Travel Logistics
Training for and running a marathon is physically and emotionally draining in and of itself. Don't let complicated travel and race day logistics consume valuable energy you need for running your best! Plan in advance as much as you can so you can enjoy a smooth, incident-free race experience.
Start by familiarizing yourself with the parking situation for your race. Is there parking at the race site? Will you have to park in one location and take a shuttle to the starting line in a different location? Where is the overflow parking if the main parking site is full when you get there? Knowing the answers to these questions can save you much stress and strife on the morning of your race.
PRO TIP - The answers to these questions can often be found on the race website or in that email you get from the race director the week before the race! Be sure you are making good use of the race resources provided for you!
Take it from me, you will want be EXTRA DILIGENT in planning your getting-to-the-start travel logistics if you are running a point-to-point race. These typically involve being shuttled out to the start location prior to (and in some cases hours before) the beginning of the race. Those aforementioned warm, cozy throw-away clothes can really come in handy in point-to-point race waiting-for-the-start situations! Since these point-to-point races will involve travel factors that are out of your control, always allow yourself more time than you think you need to allow for things like long lines or waits for race transportation.

You'll also want to have a post-race game plan. Think about the recovery snacks and clothing items you'll want and need immediately after you finish running. For example, my post-race must-have items are a comfy hooded sweatshirt, my oldest, most well-worn gray sweatpants, my Oofos recovery flip flops and a Diet Coke. To access your own essential marathon after-care items, be sure that you understand how bag check works in advance so you can navigate it effectively when the time comes. 
Make sure to have a plan for finding your friends and family at the finish as well. This may happen easily and organically at smaller races, but it can get trickier at larger events. Lucky for you, larger races do generally provide some sort of family reunion system to make this easier. Perhaps they will have designated family meet up area or balloons bearing the letters of the alphabet so you can gather at the one that has the letter that your last name begins with. Again, reading the information on the race website and in the race debriefing email you received from the race director is a great way to ascertain this critical logistics information.
Hack #5 - "This is it. Don't get scared now." - Kevin McAlister, Home Alone
Above all else, remember that this is your day! You've put in so much hard work to get here! Do everything you can to savor and enjoy it!
One strategy that I find particularly helpful for maximizing running fun while minimizing feelings of stress is dividing the race into small manageable pieces. This keeps my brain in the game and helps me avoid feeling overwhelmed. I will often divide a marathon into segments based on the course (landmarks along the way, where the big hills are, where I know there will be friends and family cheering for me, that sort of thing). But any metric can work. You might want to divide it into equal blocks of mileage (26.2 miles divides into four 6.5 mile pieces, for example.) Or maybe you section things out based on when you plan to take your gels or chews over the course of your run. However you choose to divide it out, make a goal for each segment in advance of the race start. Once the race begins, take care to focus on just the portion you're currently on and the goals you've set for it. As you make decisions during the race, think about whether or not they will impact your ability to accomplish your goals for segments later in the race.
I, for one, am a very emotionally driven runner, and I have also found great benefit in making a plan for what I would like to think about while I'm running the race. (Kind of like you would set an intention for a yoga class). I like to make a list of cool, inspiring people, quotes, and images to think about for every mile or every few miles. I've found it to be very helpful to have this little collection of positivity to refer back to when things get tough. It adds fun and meaning to my miles and reminds me that running and the community that comes with it is something much bigger than just me.
And finally, I personally find a lot of energy (and perhaps some welcome distraction) from interactions with both other runners and spectators in the crowd. Big or small, you can't beat the electric energy and community vibes on race day! So say something encouraging to a fellow runner, high-five some little kids, and comment on hilarious race signs you see along the course. I think you will find that it gives you an energy pick-me-up and spread some smiles and positive vibes to others as well, and that's what this is really all about.
So there you have it, friends! My favorite hacks for race day success! I hope you've found them helpful and that they might play a role in giving you some sort of feelings of positivity and success as you crush your fall goal race! Thanks so much for reading, and whether you'll be toeing the line at your local hometown half or a world marathon major, I wish you fun times and fast legs on race day!
Article written by Ellen Moss, Social Media Manager, Zone Five Software Inc.