The Incomplete Book of Running
A review of Peter Sagal's running book (host of Wait Wait Don't Tell Me)
Not-so-fun fact: Peter Sagal and I share the definitive life experience of being present at the 2013 Boston Marathon when the bombings happened. This, along with my long-time Wait Wait, Don't Tell Me fandom and general love of running sparked my interest in his new book, The Incomplete Book of Running. Imagine my pleasant surprise when it showed up under my tree on Christmas morning! I dove right into this easy-read and was done with it in time to welcome the new year.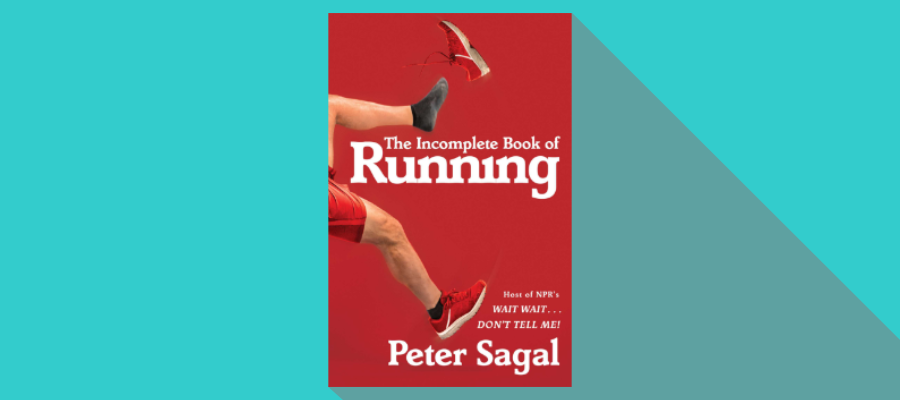 Tone and Voice
True to Wait Wait, Don't Tell Me form, Peter Sagal tells his story in a whimsical, lighthearted voice with nuggets of snark and humor that make even dark and heavy topics like divorce, depression, and mid-life crisis seem digestible and relatable. I read the old-fashioned, non-electronic version of the book myself, but in my head I could hear it being read in Sagal's radio voice, which gave it a bonus layer of authenticity.
April 15th, 2013
To me, this book's most powerful story and the one that resonated with me the most was Sagal's account of his experience at the 2013 Boston Marathon. Sagal's bombing story conveyed feelings of confusion, fear, sadness, anger, and a fierce calling to return to Boston to reclaim the race course in 2014. These were consistent with my own feelings and reactions having also witnessed this event.
He and the visually impaired runner he guided that year experienced the bombing in a much more up-close and direct way than I did. (They were essentially at the finish line when the bombs went off, whereas I finished the race about 30 minutes ahead of the explosions). The feelings of relief, amazement, and guilt I felt as I reflected on how things could have been different for me if any of the events of my run had unfolded differently rattled me to my core in the very way he describes in the book.
Life Lessons Taken from Running
All that said, you should know that this isn't just a story about the Boston Marathon bombing. Peter Sagal also examines all angles of his personal affinity for running. From his unhealthy relationship with it as a means of control as a self-conscious, chubby teenager to his reliance on the sport as a source of normalcy and therapy as an emotionally struggling middle-aged adult.
Over the course of the book he offers encouragement and advice for the beginner runner and chronicles his personal triumphs and disappointments as runner and their parallels to events in his life outside of running as well. All of this is standard issue, run-of-the-mill content for a book about running, but I think that Sagal's distinct dry, witty brand of humor and unique command of voice make his book more entertaining and infinitely less cheesy and annoying than the average inspirational running memoir.
Banditing: An Ethical Dilemma
Another highlight for me was the chapter where he very thoroughly examines the ethics of banditing a marathon. [Editor's note: banditing is when you run in a race without officially entering it]. Spoiler alert: Sagal bandited the 2011 Chicago Marathon as his final "supported long run" on the road to a breakthrough marathon PR in Philadelphia a month later. He blogged about this experience without giving it a second thought in his Runners' World training log and was shocked at the negative feedback his post received from his Runners' World and NPR followings and even his own mother! He presented his marathon banditing plight to ethics experts including a rabbi, a Harvard professor who was a "foremost expert on the moral philosophy of Immanuel Kant", and the Chicago Marathon race director himself! What was the ruling? You'll have to read the book to find out.
SIDE NOTE: In my non-SportsTracks life I work for a local running store, which also encompasses a race directing business. Thus, the morality of banditing races is hot-button topic in my day-to-day work life, so I have a special appreciation for Peter's investigation of this topic.
Final Thoughts...
Whether you're a new runner, a seasoned marathoner, a person going through a divorce, a parent, someone who struggles with depression, an NPR fan, or any combination of any of these things, you will find some relatable themes and entertainment in this book. I found it to be a quick and easy read. I also thought it was a lovely reminder of the accessibility of running and its ability provide routine and stability at times when life feels utterly chaotic in every other way. It was a statement of how running builds communities and reminds us that we can do difficult things.
In fact, the running and life metaphors highlighted in this book are many, none of them are original, and all of them are at least somewhat cliché. However, at the end of the day they are still the reasons that I like running, and I thought it was nice to learn that they are the reasons Peter Sagal likes running, too. Maybe you'll appreciate this about The Incomplete Book of Running as well.
If you've also read this book, please let us know what you think in the Comments section below. Thanks for reading!
Article written by Ellen Moss, Social Media Manager, Zone Five Software Inc.