Activity Wellness Tracking
Integrated steps, active time, distance and calorie tracking from Garmin
This month we're launching improved wellness tracking in SportTracks, starting with integrated sync from Garmin Connect for steps, active time, distance, and calories burned from your activity tracker. When combined with your workouts, training and goals, wellness tracking can give you a better wholistic picture of your health.
To access these charts, go to your Health page and click the settings gear icon in any chart panel:

You can choose from the following values to show daily data:
Activity distance: Distance traveled by activity tracker
Activity level: Total time in active or highly active phases
Calories burned: Total calories from activity and BMR
Steps: Total steps counted by activity tracker
The summary chart will also display your weekly total and daily average from the last week, in addition to the total for today: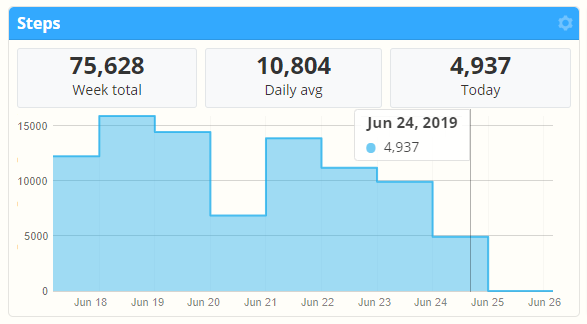 Data is updated as your watch gets synched to Garmin Connect. So the today total may be from yesterday if you haven't synched the activity tracker yet. If your activity tracker synchs throughout the middle of the day you may see a partial total up to the last synch time. This is normal and the daily totals will be updated later as new info comes from Garmin.
To show additional details for a day's activity, click and drag on any chart in the health page. Details for the region will be shown in a popup dialog.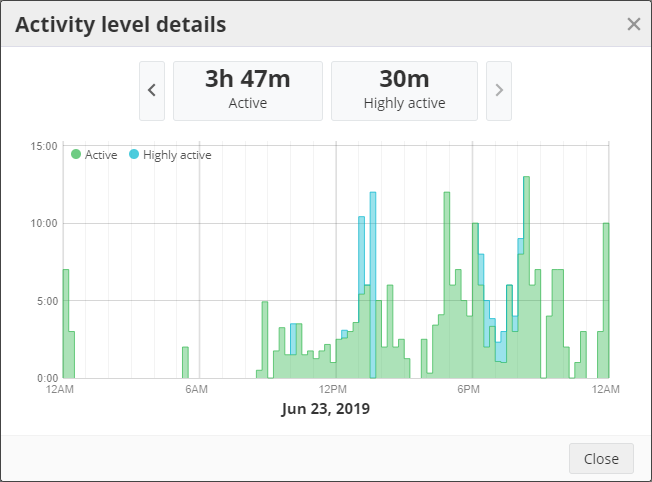 Garmin tracks wellness data in 15 minute increments, so the detail chart shows totals for that time period throughout the day. You can click the next and previous arrows to move through each day.
If you're using SportTracks on multiple devices, remember we allow customization to each specific device, so you'll have to add charts to both your desktop and mobile browser.
Sleep tracking details are in the works - look for an update soon as we continue to support wellness data in SportTracks!