Haruki Murakami
Book review of 'What I Talk About When I Talk About Running'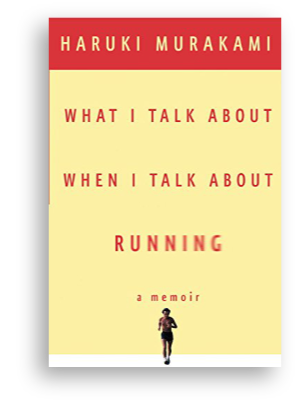 One of Japan's most beloved fiction writers doesn't go running everyday to find inspiration for story ideas, or to mentally develop his characters and plot lines—he does the opposite. He runs for the sheer pleasure of turning off his thoughts, entering "the void" as he calls it, and mindlessly listening to the same Lovin' Spoonful albums over and over again on an aging MiniDisc player.
You might assume that someone who intentionally plods away in a thoughtless void endlessly listening to "Do You Believe In Magic?" isn't the type of person who is serious about their sport—but you would be wrong. Haruki Murakami started running in the early 1980's shortly after he started writing, and he completely committed himself to both endeavors. He continues these pursuits today just as ardently as when he began.
Running and writing share a complementary bond, and this mysterious link is the focus of his book What I Talk About When I Talk About Running. Having read and enjoyed his fiction in the past, I was curious what he had to say about the sport we both love.
If you're not familiar with Murakami, he writes in the magical realism style with a distinctly Western sensibility, yet, in my opinion, everything he puts to paper has an ethereal sharpness that's unmistakably Japanese. His words have a knack for making the mundane feel completely engaging. He keeps you comfortable with plainspoken prose, yet often surprises with surreal twists and beautiful turns of phrase.
No talking cats in this one
One way this work is different from other Murakami books is that it's a memoir. It reads like a thoughtful journal, or a detailed training log with barely any technical information but lots of heart. Instead of meeting characters who drink tea with six-foot tall frogs or walk through stone walls, you learn about Murakami's daily life, his health-first approach to fitness, and his most memorable training runs and races.
Among them are 25 marathons, a single 62-mile (100k) ultramarathon, and several Olympic-length triathlons with open-water ocean swims. At first the book makes you feel like Murakami only runs to clear his head and to avoid putting on weight, but it's soon abundantly clear that he's madly in love with the sport. He goes through ups and downs like we all do, but remains committed to throwing one foot in front of the other.
A surrealist's training strategy
This isn't a book you read to learn about training. There are no tips on how to shave minutes off your marathon PR. The appearance of tech is minimal. He mentions using a stopwatch, and he keeps a handwritten log that's mainly a record of how many miles he has run each week. He never mentions having a GPS watch, or using a heart-rate monitor.
Murakami does employ some basic strategy to train for races. He focuses on trying to accumulate milage to get strong for the marathon distance, and he shares vague details about diversifying his training, mixing difficulty levels, running hills, and intentionally peaking intensity a full month before race day, followed with some tapering.
Early in the book Murakami talks about how he isn't competitive, but it seems like he spends the rest of the book talking about the thrill of passing other runners in races, and the shame of getting passed. When he has the occasional bad race, he expresses deep disappointment. There were many times I wanted to reach through the book and suggest he try a more structured approach, such as polarized training coupled with a periodized plan for the entire year. For someone as passionate about running and so emotionally tied to his finish times, I wish he experimented more with training methodologies (or discussed it more in the book if he had).
Running and writing: The great affinity
As upset as Marakumi gets when he performs poorly, he is capable of seeing positives. When a targeted finish is missed, he is content with the outcome if he feels he tried his best. He directly relates this outlook to writing. Sales figures from books, awards, and critical praise do nothing to satisfy him as an artist. The only way he finds contentedness is when he feels his writing was the best it could be. No other factor matters.
Most of what I know about writing I've learned through running everyday. —Haruki Murakami
All told, this book is a pleasant window into a charmed, inspired life. It is possible to feel a bit envious at times. The guy regularly spends months at a time living in Hawaii. He wakes up early, focuses on writing for a few hours, then gets in his daily 6-mile run through the lush scenery. Later, he'll do his 1500m swim and cap off the day with freshly grilled fish and vegetables. That said, you never forget the talent and aplomb that got him there.
This book is a 180-page love note to endurance sports. Murakami is a shy man who is most comfortable when completely alone, but he also deeply appreciates the close company of fellow runners at races. In triathlon, he struggles with group-start swims and often feels intense fear on the bike, but he keeps coming back to the sport again and again. Why? He mostly just likes the people. His introversion melts away completely when he's surrounded by oddballs who dedicate the majority of their free time to training. He's at home.
If you're already a Murakami fan and you want to get to know him a little better, this book is a great way to do that, whether you're into running or not. If you don't know Murakami, this book can reaffirm your faith in running. Even when you have it all: millions of dedicated fans, the ability to live comfortably from your art, total artistic freedom, primo Hawaiian running courses and fresh fish with soy sauce — you still have dark days where you need to physically force yourself to run. And just like in your life, running pays back threefold when you get the miles done. You're happier, healthier, and somehow less alone, even when you run solo.
Article written by Sam Mallery, Director of Marketing, Zone Five Software Inc.