The new Garmin Edge 530
Garmin's most popular bike computer gets a big update
Garmin just announced the new Edge 530 bike computer — their latest mid-level offering in this product line and a model that will likely become the most popular cycling device for the next two years. Replacing the Garmin Edge 520 and the 520 Plus, the new Edge 530 is packed with attractive improvements and a large number of appealing new features for road cyclists, triathletes, and mud-spattered mountain bikers too.
If you've been using an Edge 520, you're probably curious what improvements have been made. For starters, the battery life has increased to 20 hours (5 hours longer) and the screen got larger as well at 2.6" (63.5 mm) — the screen on the 520 is 2.3" (58.42 mm). The device itself also grew in size as the new 530 is noticeably longer at 3.2" (81.28 mm) — the length of the 520 is 2.9" (73.66 mm).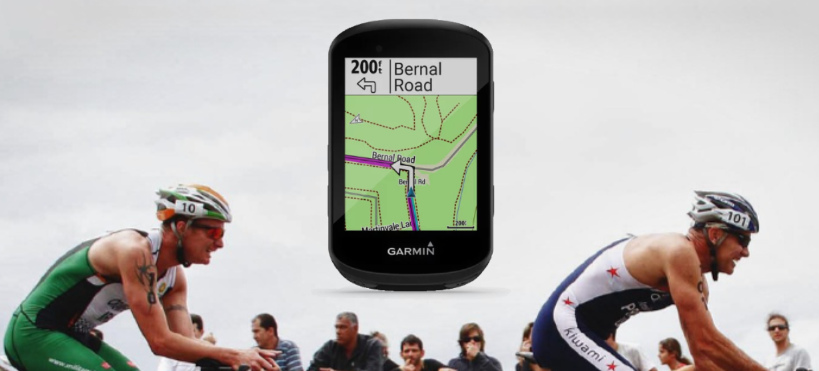 We covered the Garmin 520 Plus when it was announced last year, but one of the strikes against it was slowness. It just took too long to calculate routes. One of the big improvements on the new 530 is that the processor is twice as fast, which is a big deal. The marquee feature of the 520 Plus was the ability to handle turn-by-turn navigation, and the new Edge 530 has this capability as well.
The 530 can wirelessly connect to either ANT+ or Bluetooth Smart fitness sensors (such as Bluetooth heart-rate monitors), a capability that isn't supported on the 520 and 520 Plus. The Edge 530 has another new wireless skill: built-in WiFi. When you return to your home WiFi network after working out, the 530 will connect to your network and sync any new workout files automatically. This eliminates the need to sync with your smartphone to get workout files off of the device. And of course, when your WiFi network automatically sends your workouts to Garmin Connect, they will instantly be sent to SportTracks as well.
New Goodies for Roadies and Triathletes
The 520 was popular among road cyclists and triathletes, and they will surely appreciate the new ClimbPro feature, which displays the amount of climbing that remains on routes or courses that you've selected to ride. Climbs are color-coded to show intensity, and the current grade you're riding is displayed as well. Instead of grinding away blindly, ClimbPro lets you know how much work is left so you can more accurately gauge your attack. Plus, you can customize the other two data fields on this screen. ClimbPro is similar to an in-ride version of the Automatic Hill Detection feature in SportTracks. 

Knowing how much gas you have left in the tank for climbs is similar to knowing how much you can attack before you blow up. There's a handy Connect IQ app for that called W' Balance, which is compatible with the Edge 530. You have access to all of the free data fields and apps in Connect IQ with the 530, which is a huge advantage of the Garmin ecosystem. Many apps and data fields in Connect IQ create unique metrics, which you can later analyze in SportTracks.  
If you're riding preset routes and courses, you can also enable Eat and Drink alerts. These will notify you to either eat or drink at certain points during your rides based on physical attributes like weight and the climate you're currently riding in. If you like it when a computer tells you to eat a banana, this feature is for you. 
For those who ride with a power meter, the Edge 530 can now display your Power Curve, which is a chart that compares your power output at certain durations. This kind of chart is useful for analysis after you work out. In SportTracks, any workout with power data has similar Critical Power charts. On your Workout Detail page, hit the Analysis tab and select Power from the dropdown menu. You can also overlay other metrics on this chart like Heart Rate, Cadence, Speed, and Grade.

The Critical Power chart in SportTracks is similar to the Power Curve chart on the Edge 530
The Edge 530 has the same "Extended Display Mode" feature that's found on other recent Garmin bike computers, like the compact Edge 130. This capability was tailor made for triathletes as it mirrors the data being collected on your Garmin watch on the display of the bike computer. This is ideal for brick workouts and races where you start in the water or on a run, and hop on the bike afterward. Instead of needing to start recording a separate workout file on your bike computer, the 530 will mirror the multi-sport data being collected by your watch. This requires a compatible Garmin watch like the Forerunner 645, 735XT, 935, or a fēnix 5 Plus.
Compelling New Features for Mountain Biking
While tarmac riders got new capabilities, the new Edge 530 offers many new features to those who ride off road. When you come to a fork or an intersection on a trail and stop, a new feature call Forksight will automatically display a map of your current location on the Edge 530. This data is pulled from the preloaded Trailforks app, and the map will show you the difficulty level and grades of the different turns you can make.
While Forksite is interesting, the new MTB Dynamics in the Edge 530 are perhaps a bit more head turning. They consist of new metrics called Grit, Flow and Jump. Grit is a score that's based on the difficulty of a ride, and it's largely influenced by climbing. Flow is a score that's based on forward momentum. Consider a downhill section, the less you brake, the higher your Flow score will be. Perhaps the most interesting metric is Jump. Immediately after you land a jump the Edge 530 displays your Hang Time, Distance, and Speed. It's pretty rad.
Features Any Cyclist Will Appreciate  
Whether your bike has drop bars, aero bars, or risers, you'll appreciate the new performance-related Altitude and Heat Acclimation features. Altitude Acclimation shows how well you're performing in changes of altitude, and Heat Acclimation shows how well you're performing in changes of temperatures above 71° F (22° C).
"
Immediately after you land a jump the Edge 530 displays your Hang Time, Distance, and Speed. It's pretty rad.
If you end up flying over your handle bars, the Edge 530 features automatic Crash Detection, which includes a "Get Assistance" function that automatically sends your location to the emergency contacts you add in Garmin Connect.
When you need to park momentarily to grab a coffee, you can enable a built-in bike alarm by long-pressing the power button. If the 530 detects movement, the alarm will sound. It can also send notifications to your phone, and your phone can automatically silence the alarm when you are in close proximity.
If the 530 falls off your bike somehow, or if it's buried behind a pile of lycra, you can use the new Find My Edge feature to unearth it. The moment it loses contact with your phone the Edge 530 will record its GPS location. To find it you press a button in the Garmin Connect mobile app that makes the Edge 530 beep, and provides its last GPS location.
If you're the type of rider who needs more than 20 hours of battery in full GPS mode, or more than 48 hours of battery life when in battery-saver mode, you can use the separately available Garmin Charge Power Pack. This doo-dad attaches to the base of the 530 and effectively doubles the battery life. If you need a head unit for circumnavigating the globe on your penny farthing, the Edge 530 is an option.
Dismounting...
Taken as a whole, the new Garmin Edge 530 is a truly enticing new device. If you've been riding with a 520 for a while, there are enough useful new features and upgrades in the 530 to make it worth getting. Here's a summary of the new features and improvements:
Longer battery life
External Charge Power Pack support
Larger screen
Dramatically faster processor
Turn-by-turn navigation 
Support for

 Bluetooth Smart fitness sensors

Built-in WiFi

Real-time ClimbPro hill climbing data

Eat and Drink Alerts

Power Curve charts

Extended Display Mode

Forksight trail navigation

MTB Dynamics: Grit, Flow, and Jump

Altitude and Heat Acclimation data

Crash Detection

Built-in bike alarm

Find My Edge (a way to find it if you lose it) 
If you were expecting Garmin to knock it out of the park on the next generation of this product line, it appears they have.
Article written by Sam Mallery, Director of Marketing, Zone Five Software Inc.