New Feature: Lap Button Editing
Got inaccurate laps? Quickly correct them with SportTracks...
Any athlete knows that efforts are rarely consistent across an entire workout. Rides have flat sections and hill climbs of varying brutality. Interval workouts have active and rest sections. Threshold tests have warmup and cooldown. Or maybe you're mixing up your long run to include interval training before or after. Whatever the scenario, looking at your overall performance metrics won't give you a complete picture of workouts with mixed intensities.
A great way to analyze these workouts is to use the Intervals page to look at different metrics for different sections. You have a variety of common options for auto-distances such as 1 mile or 1km, intervals for auto-detected hill sections, and laps that you've manually triggered with the lap button on your watch or bike computer.
So what happens if you forget to trigger a lap, or trigger at the wrong place? A new feature in SportTracks lets you edit all of your lap details by clicking the workout Edit button and going to the Laps page.

To edit any lap, simply click the row. In the edit lap card you can change all the details of the lap or delete the lap.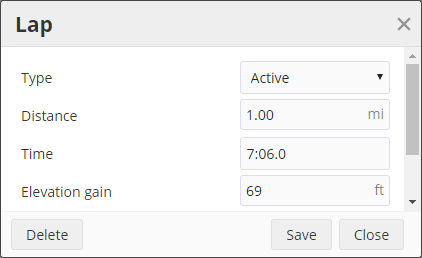 Note that any lap fields that are left empty will be recalculated from sensor data (if present). No need to estimate the average or maximum heartrate for a lap — let the system do it for you. You can also add a lap by clicking the Add lap button at the top of the page.

Finally, if you just want to mark a lap as rest you can do that with one click on the lap number. This also works in the workout detail Intervals page without going into edit mode.

Triggered lap editing joins the long list of customization and editing features already available in SportTracks. It's another way SportTracks lets you take control of your own fitness data.