Do Nike VaporFly Shoes Work?
Thoughts on the Nike ZoomX Next % from the Middle of the Pack
Slow to hop on the bandwagon
When the VaporFly 4% arrived on the shelves of the store where I work in advance of the 2019 spring marathon season, I was unimpressed. The shoe's woven FlyKnit upper made my toes feel claustrophobic and my flat foot spilled off its incredibly curved last* in a most unbecoming foot muffin top of sorts.
Nerdy Shoe Note: The word "last" refers to the foundation the shoe is built upon. A straight-last shoe might accommodate a flatter or lower arched foot and maximize ground contact and inherent stability. A shoe with a curved last would generally match up better with a high instep or arch. The VaporFly 4%'s last is very curved (or super skinny through the mid-foot) to cut down on weight as much as possible.
Plus, my discounted price for the VaporFlys was equal to what regular people pay for standard running shoes. Given that I am unaccustomed to spending a lot of money on running shoes to begin with thanks to the perks of running store employee discounts, and the fact that I was feeling particularly uninspired by my personal marathon training experience at the time, I proclaimed myself to be a non-believer of the Nike VaporFly hype.
The tide begins to turn
This all changed when I entered my 2019 fall training cycle. After a spring cycle spent on the struggle bus and a VERY unimpressive race time (despite an excellently fun race experience) I was hungry for some serious marathon redemption. So, I signed up for the California International Marathon, known for its speedy course and described by the race's marketing campaign as a "PR factory", and told my coach that I was ready to bring out the big guns and go after an epic breakthrough PR. As my mileage climbed to weekly totals never seen before by my training log, my fitness and confidence increased as well, and I became obsessed with doing all the little extra things I could to gain an additional fitness and confidence edge towards reaching my goal.
I did core strengthening exercises. I subscribed to geriatric bedtimes. I ate vegetables. I even (occasionally) used the foam roller. And then, amidst all the big miles and positive health behavior changes, Nike released the Next %s in my power color. The color of my aura. Obnoxious highlighter pink. That's when I knew I had to have them.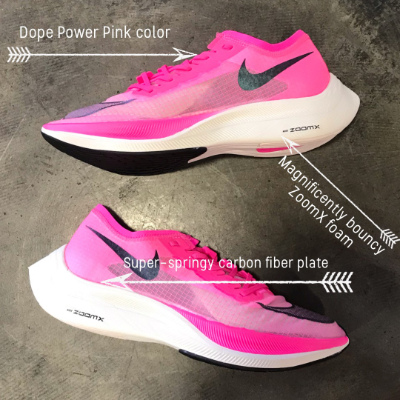 But are they cheating?
Lest I needed another reason to make those sexy pink shoes mine, in October I watched them pace Eliud Kipchoge to the first ever sub-2-hour marathon (Kipchoge himself was wearing a different Nike prototype shoe that likely offers an even greater increase in performance than the Next %) and help Brigid Kosgei shatter the long-standing women's marathon world record in the same weekend. Why wouldn't I want to buy these shoes with such compelling evidence to demonstrate their claims of gains in running economy, especially when I could purchase them with my employee discount? But with these amazing, unprecedented, high-profile results came pushback and controversy. 
Now, let's take a moment to back up and look at the technology of the VaporFly 4% and ZoomX Next % and how it works. The key elements that separate it from other shoes on the market are: (1.)  A carbon fiber plate that is embedded in its midsole, which stores and releases energy with each stride and serves to propel runners forward. (2.) An exceptionally light, soft, and resilient midsole foam that assists in facilitating energy return to the runners and reduces (or delays) the onset of muscular fatigue in the legs. 
Does this make racing in the VaporFly or the Next % unfair or just too good to be true? I REALLY WANTED that big breakthrough PR, and I wanted to take every measure possible to optimize my odds of achieving it, but it was also important to me to come by it honestly. So, I read the articles from Runner's World, The New York Times, and Outside Magazine. I picked the brains of every trusted expert and running nerd I could think of. The consensus from all friends who had already bought and raced in the shoes was that they are magical and life changing. I watched one such friend drop 13 minutes off her marathon PR to break 3 in the Next % in Chicago. My boss, who owns the store and is highly acclaimed as a local running guru wore them in the New York City Marathon. My coach, while confessing that he did find them frustrating as coach of elite athletes who have shoe contracts with a shoe company that isn't Nike (completely unrelated to his coaching of humble mid-pack me), assured me that shoes weren't cheating and couldn't produce speed or fitness that wasn't there. Two weeks out from my December 8th race, those beautiful pink spaceships for your feet became mine at long last.
Testing the waters
I bought them just in time for the low-stakes, not at all competitive turkey trot race near the town where my parents live. Despite the calls of douchebaggery and being "100% that bitch" from my running store co-workers, I toed the line in the pink spaceships on race day. I cannot deny that they feel like a dream. Lighter, bouncier shoes I cannot fathom. Just the act of putting them on made feel not only faster and more confident in my running abilities, but also prettier. I nabbed the top female finisher spot and gloriously gaudy plastic golden turkey trophy with ease. To be fair, I did not break any land speed records in the 5K distance. Not even close. But I did run a very-good-for-me time on a hilly course, and surprise myself with my first ever win in a running event. It was a small, but effective ego boost as CIM loomed ahead.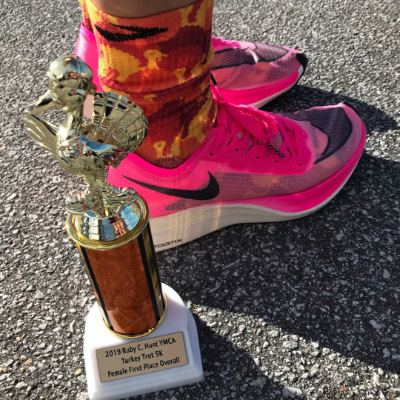 This is it. Don't get scared wow.
10 days later I was on the start line in Folsom. I had the good fortune of running into some entertaining friends from home who were aiming to run a similar pace and agreed to keep me company on our trek to Sacramento. Early in the race I mused that we might distract ourselves from the grind of the marathon by counting other runners wearing Next %s. (Two out of three in our trio were wearing them.) I quickly realized that a more feasible goal would be to count the people NOT wearing Next %s, because damn near EVERYONE was rocking a pair. (Keep in mind that we were as much as an hour behind the winners of the race, probably somewhere around the front of the middle of the field.)
To my great surprise and joy, I had a probably once in a lifetime perfect race experience. I felt great and strong THE ENTIRE TIME. (I have done enough marathons to know that this is NOT normal.) I was miraculously able to drop the hammer in the final 5K to cross the line with at 4:00 minute + negative split and a 5 min PR!
Was it the shoes, though?
Needless to say, I was pretty stoked about how things went at CIM. I felt at least 50% better than I have in any other marathon during the race, 25% less beat up in the days after the race, and 100% happy with my result. I was also about 1 million % sure that the shoes had improved my finishing time by AT LEAST 5%, if not more, but for the purposes of writing this article I decided to crunch some numbers just to be sure.
My previous marathon PR was 3:21:XX and I ran a 3:16:XX at CIM. As it turns out, if my math is correct, that falls somewhere between a 2 and 3% improvement. Although the margin is smaller than I had hoped and dreamed, this progress IS good for shaving 5 minutes off my marathon time and that is not insignificant. But how much of that credit can we really give the shoes? I don't know the answer to that, but I DO know that in addition to racing in them, I also trained harder than I ever have before and made lifestyle changes that I hadn't been willing to make in training cycles past. So, my verdict on Nike's magic shoes is this: Yes, they do work, and I suspect that the confident boost they provide is every bit as valuable as any mechanical advantage they might add. But they are in no way a training shortcut, and they can't supplement any speed or fitness that hasn't been earned with sweat equity. So, if you've got an extra $250 laying around and you'd like to give yourself a bonus boost of self-confidence for your marathon, I say head over to your local running store and snag a pair before the get banned!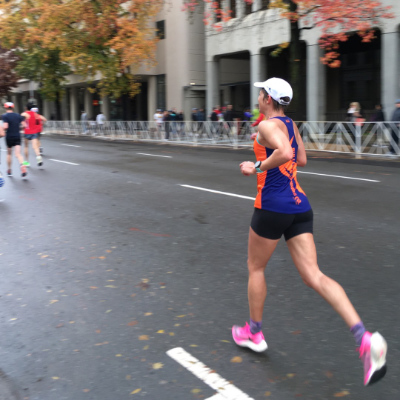 What's next for the Next %?
With mounting evidence of the VaporFly and Next % shoes providing a mechanical edge over any other shoe on the market right now, running discussion boards and media outlets speculate that the IAAF (International Association of Athletics Federation, read: the international governing body of all things running) may ban use of the VaporFly in competition or at the very least, place regulations on how much midsole stacking height a shoe can have. Meanwhile, other shoe manufactures including Brooks, Saucony, Hoka, and Asics are adapting technologies similar to those in the VaporFly to their own innovations. 
It is certainly an interesting time to be alive here in the running specialty industry! We at SportTracks will continue to follow the VaporFly saga and weigh in as new developments unfold. Meanwhile, we would love to hear your thoughts on this hot-button topic. Have bought into to Next % craze? Did you run a big PR in yours? Do you think they are bending the rules? Let us hear from you!
Article written by Ellen Moss, Social Media Manager, Zone Five Software Inc.