Cold Weather Running Gear 101
How to dress for running in the cold winter months
Looking for some pro tips to keep you toasty-comfortable when running outdoors all winter long? When I'm not tweeting up a storm as the SportTracks Social Media Community Manager, I work full-time at my local running store and have for many years — so I like to think this makes me somewhat of an expert when it comes to running gear and how to use it. Read on to learn more about my preferred best practices for running in the cold.
Layering: It's as easy as 1, 2, 3!
Let's start by reviewing the wardrobe fundamentals you'll need for cold weather running. Of course you'll need a good pair of tights to keep your lower half warm. Bottoms are pretty straightforward, but sorting out the ideal clothing combo for your top half can be  a little more complicated.
Layers are the key to keeping your core warm and happy on chilly winter runs. You'll want to start with a good base layer, or layer 1, as some like to call it. This would ideally be a piece that fits close to the body (think a thin, long-sleeve shirt) to hold in heat while wicking moisture away from the skin. This means that in selecting your first layer you'll want to opt for some sort of synthetic, moisture-wicking fabric, because everyone knows that cotton is rotten. Craft Active Intensity and Mizuno Breath Thermo are some of my favorite base layer options.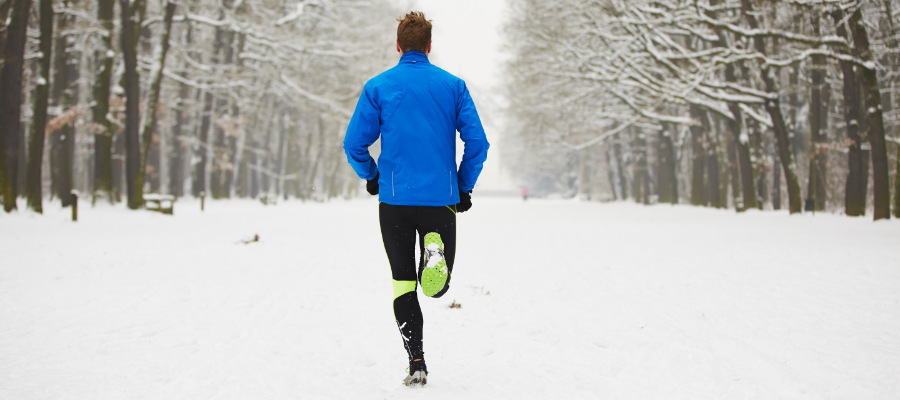 Pair your base layer with a second over-layer (or layer 2) that adds warmth but offers some sort of temperature control feature to accommodate for changing temperatures and conditions during your run. Popular layer 2 choices here in running store land include half or full-zip pullovers and jackets. I'm also personally I big fan of the vest as a go-to second layer. I find that here in the American southeast where winter temperatures tend to stay somewhere in 35 to 45°F (1 to 7°C)  range for the majority of the season, the vest offers sufficient core warmth and insulation, but also provides optimal temperature management as it allows heat to dissipate from the all-important arm pit body temperature control center. I find the Flyout Vest from Oiselle to be the prefect amount of core warmth and it is quite pretty and fashionable to boot!
However, if you live in a region of the world that is colder than central North Carolina, you may want to bypass layer 2 in favor of a layer 3. Let's define layer 3 as an outerwear piece that offers some sort of protection from the elements. Some examples of a layer 3 would be waterproof and windproof jackets, down jackets or vests, etc. I look to my Brooks Hideout Jacket for seam-taped wind and water projection when I'm faced with an exceptionally wet and windy run. In cases of extreme cold, gusty winds, and driving precipitation you may even consider implementing all 3 of the layers of winter running gear, but those situations tend to be few and far between here in our neck of the woods.
Which brings me to my second pro tip for dressing for cold weather running which is...
Don't over dress!
When it's really cold out I know it's tempting to bundle up like Ralphie's little brother in that scene from "A Christmas Story", but trust me, you'll have a much more pleasant running experience with a "less is more" approach. Avoid over-dressing and subsequently, overheating by asking yourself this simple question: What would I wear if the outside temperature was 20° warmer than the actual reading on my thermometer (or smartphone weather app)? Then put on the warmer weather outfit that you thought of and proceed with your run. You'll be surprised at how quickly your body makes up for those 20° once you get moving. Plus, it's my personal belief that feeling a little chilly on your run is far superior to feeling like a hot, sweaty mess. Just think of the chill as extra motivation to keep a little pep in your pace.
It's time to talk accessories...
We've got your core covered! Now we need a winning game plan to keep your hands, feet, and head warm. Above all else, you're going to need a good pair of gloves. For climates where your average running temperature will be around 35 to 45°F (1 to 7°C), you'll probably be fine with a basic mid-weight moisture wicking glove. However, if you're running in conditions that fall into the 20 to 30°F (-6 to -1°C) range or colder, you may consider adding a good pair mittens into your rotation. Mittens seem to do a better job of trapping warm air around the fingers than gloves, and therefore it is generally agreed that they feel warmer. 
"
...think of the chill as extra motivation to keep a little pep in your pace.
My personal favorite cold weather running accessory is what I like to call the glitten, a glove and mitten hybrid. A good pair of glittens (or any pair of glittens for that matter) features a traditional glove and a wind and weatherproof mitt that fits over it. This weatherproof mitt can easily be stashed in a pocket on the front of the glove as your hands warm up or temperatures rise. Thus, providing customized hand warmth for any level or intensity of cold weather you might encounter. I'm sure there are many great glittens options out there, but my preferred pair is the Hybrid Weather Glove from Craft.
You'll also want to show your feet and ankles a little extra love when it's cold. For best results, try a thicker, more cushioned sock and experiment with fabrics such as wool that are known for their ability to maintain body heat while they wick moisture. You may also make a point to wear taller socks, in an effort to close that drafty gap that always happens between the top of your shoes and the bottom of your tights. I love the height, feel, moisture wicking odor control capability of the Uncommon Solid Wool Crew from Stance for optimal foot warmth and fashion, but you don't have to take my word for it.
And finally, you'll need to keep your head warm! Don't let frozen, tingly ears and face wreck your cold weather training game. As with all other articles of running gear, we're looking for hats made of synthetic or wool material that will pull moisture away from the skin while retaining body heat at the same time.
Still not sure where to start?
No worries! I've put together this fool-proof temperature and outfit selection guide for your convenience! Check it out...
Temperature Range
What to Wear
45 to 35°F
(7 to 1°C)
Shorts and a long sleeve shirt and gloves — sounds chilly, but don't forget to dress for 20 degrees warmer than the actual temperature rule. You'll warm up quickly, I promise!
35 to 25°F
(1 to -15°C)
Tights or capris and a long-sleeve shirt (layer 1) with a vest or half-zip (layer 2), plus gloves and an optional hat or ear warmer.
25°F and colder
(-15°C and colder)
Full-length tights with a base layer (layer 1) and windproof jacket (layer 3), plus gloves or mittens and a hat.
And there you have it folks, my guide to dressing for success to cold weather running! Just remember, there's no such thing as bad running weather as long as you have the right running gear! Now get out there and log some cold weather miles in pursuit of your big, exciting 2019 running goals! Until next time, happy trails!
Article written by Ellen Moss, Social Media Manager, Zone Five Software Inc.