Privacy & Security at SportTracks
How we protect your data and give you complete control
We take the protection of your data and privacy very seriously at SportTracks. We created this post to help you fully understand our approach to these topics, and to remind you that you always retain complete control of your data on our platform.
Our approach to privacy
Every page of our site has a link to our Privacy policy at the bottom. It's worth reading, but here's a quick breakdown of some important points:
Your information will not be sold, exchanged, transferred, or given to any other company for any reason whatsoever...
We implement a variety of security measures to maintain the safety of your personal information...
All supplied sensitive/credit information is transmitted via Secure Socket Layer (SSL) technology and then encrypted...
After a transaction, your private information (credit cards, social security numbers, financials, etc.) will not be stored on our servers...
We do not sell, trade, or otherwise transfer to outside parties your personally identifiable information...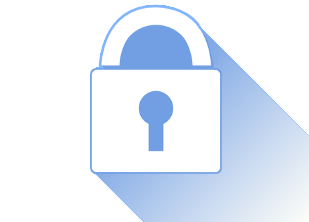 In-app privacy settings
SportTracks has an array of privacy settings that you can adjust to your liking. Simply select your profile in the upper left corner, hit the My account button, then select the Privacy tab on the left.

As you can see, I prefer to keep my privacy settings as public as possible, but they default to show new workouts to your friends only, and the other settings are for coach only. New workouts can be changed to private, public, or for just your friends. Personal messages can be open to everyone, or just for your friends and coach.
Using SportTracks in complete privacy is always just a few clicks away. While we certainly encourage you to make friends on the platform and cheer each other on, it's entirely up to you how social you choose to be.
Sharing and bulk editing privacy settings
Individual workouts can be shared publicly while your global setting remains private. In the top right corner of your Workout Detail pages you'll find a Privacy button that lets you alter this setting. It enables you to share big races, epic rides, milestones, or anything you want while still maintaining your overall privacy. The Share button beside it lets you send workouts to friends, via email, or on Facebook.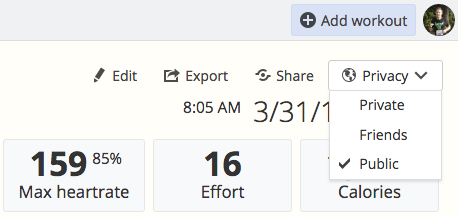 The Workouts page in SportTracks offers more ways to control your privacy. You can easily create a column that shows the privacy setting of each workout by clicking the gear icon in the top right corner. You can sort workouts by their privacy setting by clicking the top of the column, and you can use the other controls on the page to filter by sport, date, etc.
If you hit the Select button (to the left of the gear icon in the top right corner of the Workouts page), then click the check-box beside workouts you want to edit, and then select the Edit button, you can change the privacy settings of multiple workouts in bulk.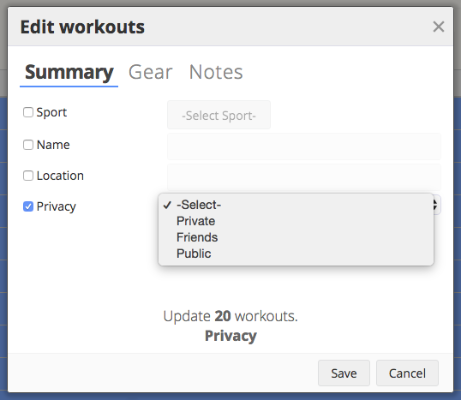 Do you keep my information?
For tax purposes we are required to retain some basic billing information when you purchase a SportTracks subscription. This data is kept strictly confidential and protected by a secure enclave. Outside of that, you can easily remove all of your personal data.
SportTracks exists because we wanted a more powerful and easy-to-use platform for training and racing in endurance sports. We also strongly value privacy and data protection. We have formidable systems in place in these areas not by accident nor obligation, but because it's what we want for ourselves.
Article written by Sam Mallery, Director of Marketing, Zone Five Software Inc.