Boston Marathon Goals
Training to crush a new PR and tips for success in Boston
I, like many of you, have a very exciting goal on my spring race calendar: I'm training for the Boston Marathon! And if you or someone you love is training for this race (or any marathon), you probably already know there is nothing people training for the Boston Marathon love more than (you guessed it!) TALKING ABOUT TRAINING FOR THE BOSTON MARATHON! That's why I'm here to share with my training routine and how SportTracks fits in. I think you'll find it relatable, inspirational, or at the very least, entertaining.
How I Got Here...
We'll start at the beginning: How I came to settle on this goal of running Boston. Running is a HUGE part of my life. It's the basis of my full-time job, the thing that makes me a nice, pleasant person, and the cornerstone of my social life. I'm lucky to have a wonderful, super-fun group of running friends to train with, so when they all decided to make Boston 2019 their focus there was no way I was going to miss out on the fun! 
I've run Boston twice before, a disappointing run that was quickly cancelled out by the tragedy of the bombings in 2013 and a perfect day that exceeded my expectations in every way in 2014. (This still stands as my marathon PR and I've done 3 other marathons since!) When I proposed the idea for this post to the SportTracks team their biggest question was "Why Boston?" I looked at them incredulously and replied "Because it's the best! Duh." And I really believe that's true.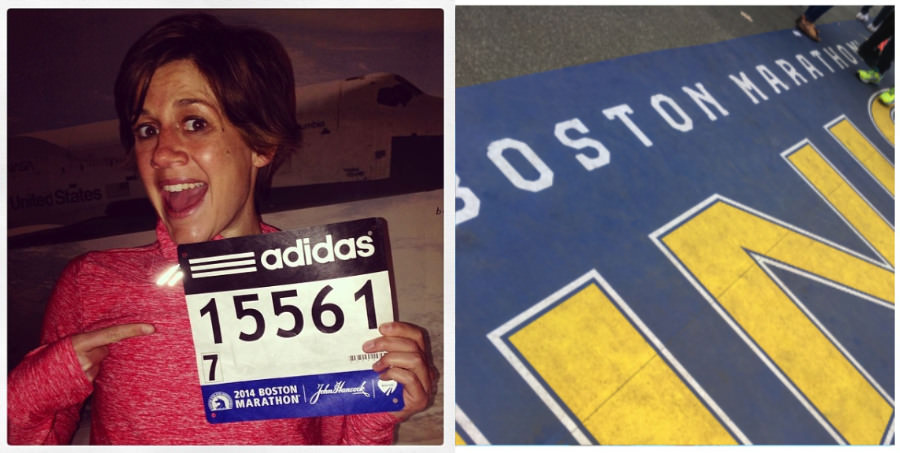 Finish line photo by Nicki Dugan Pogue via Flickr
I've done eight other marathons, including the other two domestic majors (Chicago in 2016 and New York City in 2017), and although these were both great experiences in their own right, nothing beats the beautiful dichotomy of the intimate, supportive running community vibes and big rowdy crowd vibes that the Boston Marathon and the weekend surrounding it creates. As a fan of running and people and a hardcore extrovert I FRIGGIN' LOVE THAT STUFF! 
Also, I'm excited to return to the sighting of the ole marathon PR and see if I can best it. The Boston course is challenging. It's subtly to very noticeable downhill nature in the first ~16 miles can really trick you into going out to fast without realizing it until you hit the very inconsiderately placed Newton hills around mile 20. One of my very favorite and proudest accomplishments in my adult life is applying what I learned from a sad struggle up those hills in 2013 to crush those same hills and run a 7 minute marathon PR on the same course the next year. Here's hoping I can remember all those important lessons of the course to execute it well again this April!
And finally, all of my friends are doing it. Like literally, my entire running community, nearly every single person on my local track club (which I incidentally help manage through the running store where I work) is running Boston this year. I have had the honor and privilege of training with many of these fine people as they chased their BQs and even paced a few in the races where they earned them. So I'm thrilled to run Boston this year as part of my home team and to celebrate the culmination of lots of hard work for so many of my nearest, dearest running friends.
Goals and Training
Now, let's talk training! My time goal for Boston this year is 3:19:59 vs. my standing marathon PR of 3:21:28. Maybe it doesn't sound like all that much time to shave off, but I've done 3 marathons since running that PR and I've come up short of doing it (sometimes by mere seconds and others by several minutes). 
I work with a coach who plans my training program on a monthly basis, factoring in feedback from my daily training log and our monthly check ins. My weekly mileage for this training cycle thus far has averaged around 55 miles, with higher volume weeks topping out around to 60 to 65 miles. 
My training cycle is periodized into three week blocks which include two weeks of building volume (i.e. increasing mileage) and one step back week. On step backs I (mercifully) run less mileage, but will often see a ramp up in the intensity of the quality work prescribed.
Here is an example of what my typical training week might look like:
Monday: Rest
Tuesday: Easy miles (perhaps 5 to 7 of them) + strides.
Wednesday: Longer mileage (10 to 11 miles) with some sort of interval-based quality work (mile repeats, fartleks, etc.)
Thursday: Shorter easy miles (5 to 7)
Friday: Longer easy miles (8 to 10)
Saturday:  Short easy miles (4 to 6) + strides
Sunday: Long run with marathon paced intervals in the final hour. (16 to 22 miles)

The training calendar in SportTracks
I consider myself to be a fairly "low-tech" runner, but I would be nothing without my trusty Garmin 235 to track my mileage and pace and tell me my splits for those Wednesday interval workouts. I also rely on SportTracks to track my fitness improvements over time, measure my progress towards my goals, and keep tabs on my connections who are also training for Boston.
What the Stats Say
And speaking of other SportTracks community members who are training for Boston, the team at SportTracks HQ thought it might be fun to compare my goals for this year's race against the data of the SportTracks users who ran Boston last year. Here are the numbers...
Last year the Boston Marathon was a very popular race for SportTracks customers. Here are their demographics vs mine.
Age 
Them - From 30 to 68, averaging 49
Me - I'm currently 37, but by race day I will be 38.
Gender
Them - 90% male
Me - 100% female
Nationality
Them - 70% US, 30% non-US
Me - All-American
Distance Travelled
Them - Runners came from as far away as Italy (4000 miles), as close as Boston, US runners coming from all over the country.
Me - I'll be traveling 695 miles from Durham, NC to Boston.
Finish Time
Them - From 2:59:53 (6:51/mi) to 4:39:56 (10:14/mi), averaging: 3:30:12 (8:01/mi)
Me - I hope to finish the race in 3:19:59, which averages out to 7:38/ mile.
These statistics seem to be more or less reflective of my life in general, placing me somewhere on the higher end of average in pretty much every way. Stay tuned for a follow-up statistical analysis post-race to see how my actual performance stacks up against the SportTracks median.
Pro Tips for Newbies
If you're still reading this, it's probably pretty clear that I am REALLY STOKED for the 2019 Boston Marathon. I hope that's true for many of you out there as well. So I will leave you with some seasoned Boston Marathon advice, in case you're working on tackling this beast for the first time yourself...
1. DO NOT go out too fast: You will want to. The course is all down hill in the early miles and vibes are super-hyped and exciting. You may even think that you aren't going too fast in the early miles, but you'll be wrong. Remember that just because you feel comfortable running your goal pace or slightly faster in the first 8 miles or so doesn't mean you should be doing it. Run a few minutes slower than your goal pace for the first half of the race, and save that extra pep in your step. You're going to need it for the harder, later miles.
2. Kiss the Wellesley Girls: Just before the half marathon marker of the race you will run by Wellesley College. Here there will be hoards of screaming college girls bearing signs that say things like "Kiss me! I'm a Sagittarius!" or "Kiss me! I'm a vegan!" or "Kiss me! I'm from Nebraska!" etc. Stop running and kiss them, dammit! It's a Boston Marathon tradition and it won't effect your pace at all. I have the splits from 2014 to prove it.
3. It's better to come through the half slightly behind your pace than slightly ahead of it. A wise running mentor of mine told me before I ran my first Boston that if I came through the half ahead of my goal pace, I'd be totally screwed. It seemed a bit crass at the time, but I wholehearted believe it to be the best piece of Boston Marathon advice I've ever gotten. Hitting the half ahead of your goal time is a surefire way to run out of gas just when you need it the most: At the Newton hills. So hold your horses and enjoy the ride, at least through mile 13.
4. If you haven't fallen apart by Heartbreak Hill, then you're having a good day! It's easy to judge the type of day you're having in Boston by how big the hills feel. If Newton feels like it might as well be Everest, well, then the rest of the race is probably going to feel that way as well. (These things do happen to the best of us.) But if you make it to the top Heartbreak feeling fresh and peppy (or even if you just make it there feeling non-terrible) the day is yours! Go for the gold and relish a well-executed Boston Marathon! Just take care not to squander all of your speed and pep down the back side of Heartbreak into Boston College. Remember that you've still got 5 miles to go from there.
5. Have fun! It's the Boston friggin' Marathon, y'all! Regardless of your time goals, please, please, PLEASE allow yourself to have a little fun out there! You are running the best marathon with the best crowd support there is (in my humble opinion) and you have worked your tail off to get there! Live it up! Soak up all that great Boston energy! Take some selfies, stop and hug your family, laugh at the funny signs, high five the little kids! These are the things that will make your Boston Marathon experience awesome and memorable, regardless of the finish time you post!
In conclusion...
Writing this post has made me REALLY SUPER JAZZED for the Boston Marathon on April 15th. If you're training for it also, I hope it's done the same for you! Connect with me on SportTracks so we can swap training data and war stories, and I'll see you on Boylston!
Article written by Ellen Moss, Social Media Manager, Zone Five Software Inc.