Best Budget Smart Trainers 2021
Indoor Cycling Trainer Recommendations for Every Budget
Choosing the best affordable smart trainer for indoor cycling can be extremely difficult because there are a vast number of models available, and researching takes an incredibly long time. That's why we publish this article every year — we provide the information you need in an easy-to-read, efficient format.
The pandemic has made this process even more difficult. Indoor bike workouts were already gaining popularity before the virus, and then lockdowns and social distancing sharply increased the demand for at-home fitness equipment. Now several of the best options are frequently out of stock. To make up for this, we provide three recommendations in each category so there's a better chance that you'll find a model you can actually buy.

Just want a better indoor bike workout?
This article focuses on "smart" trainers, meaning they have high-tech sensors and wireless protocols that make it possible to use them interactively with cycling software. But if you're not ready to buy a costly smart trainer and you want an experience that's more fun than blindly grinding away, you can use engaging apps like Zwift, TrainerRoad, and Peloton by connecting your bike to a "dumb" trainer and attaching inexpensive speed and cadence sensors.
These trainers are "wheel-on" designs, meaning you attach them to the rear wheel of your bike. Dumb or "classic" bike trainers use magnets or fluid to create tension. Magnetic bike trainers are less expensive, but they quickly lose inertia when you stop pedaling and they're significantly noisier. That's why all of the models we recommend are fluid based. To use Zwift or TrainerRoad, you just need a speed sensor. To use the Peloton app, you just need a cadence sensor. We recommend the speed and cadence sensors made by Wahoo because of their ease of use and that they provide both Bluetooth and ANT+ wireless communication.

Kurt Kinetic Road Machine - This bike trainer has a firmly established reputation for being solidly built and providing smooth and quiet operation. It's our top pick for budget-friendly classic trainers as it supplies excellent performance and long lasting value at a great price. However, the Kurt Kinetic Road Machine is bundled with an included speed sensor that tends to be inaccurate, so buying separate Wahoo sensors is recommended so you can have the most beneficial workouts possible.
Saris Fluid2 - With consistently positive reviews from users year after year, the Saris Fluid2 is our second recommendation for classic trainers, mostly because it tends to cost a little bit more than the Kurt Kinetic Road Machine. The Fluid2 has a durable build quality and folds-up compactly for transport and storage. Like the Road Machine, the Fluid2 is often bundled with a speed sensor, but it also tends to be inaccurate, so buying Wahoo sensors separately is still recommended. 
Saris Fluid - This classic trainer is very similar to the Fluid2. The price is $50 USD cheaper and it's similar in design, however the build isn't quite as robust and it doesn't fold down as compactly. The Saris Fluid has a PVC roller (the Fluid2 roller is anodized aluminum), and it's a bit louder when in use. It's our third pick because it offers good performance at a low price. No sensors are included with this unit, so this is something you will need to purchase in order to use cycling software.
Important wheel-on trainer tip: Due to the heat created by the roller, this kind of trainer will quickly wear out a regular bike tire, so we strongly recommend using a dedicated trainer tire.
The best entry-level cycling smart trainers in 2021
The classic trainers covered in the first section cannot increase resistance on-the-fly, so to do a more intense interval, you need to shift your bike into a harder gear and pedal with more force. On the other hand, smart trainers can increase resistance without you doing it manually. When you start climbing a virtual hill in cycling software, a smart trainer will automatically make you do extra work to spin the cranks. This greatly enhances the indoor riding experience and makes it possible to target intensity ranges for specified training.
Like the classic trainers, entry-level smart trainers are all wheel-on designs, meaning they attach to the rear wheel of your bike. They are typically louder when you ride them compared to "direct-drive" trainers that are covered in the next section. Also, keep in mind that the least expensive entry-level smart trainers provide fitness data that isn't as accurate as more advanced models.

Tacx Flow Smart - For the third year in a row the Tacx Flow Smart is our pick as the best entry-level smart trainer. It just strikes the right balance of having a low price with decent performance. Unlike the classic trainers in the first section, the Flow Smart supplies speed, cadence, and power data without additional sensors. However, these metrics will be more accurate with the direct-drive models recommend in the next section. The Tacx Flow Smart provides a maximum resistance of 800 watts, a simulated uphill grade of 6%, and an accuracy of +/- 6%.
Wahoo KICKR Snap - This trainer is significantly more expensive than the Tacx Flow Smart, but it's also significantly better. There's only one truly inexpensive smart trainer on the market, and that's the Tacx Flow Smart. The KICKR Snap has a stronger build quality, a much heavier flywheel that provides a more realistic riding feel and better inertia, and more accurate metrics across the board. However, thanks to the pandemic, it's often out of stock. The Wahoo KICKR Snap provides a maximum resistance of 1500 watts, a simulated uphill grade of 12%, and an accuracy of +/- 3%.
Elite Tuo - The Elite Tuo is the most recently designed model included in this entire article. It's impressive because it provides the performance of a high-quality trainer at a somewhat entry-level price. It's a little more expensive than the Wahoo Snap in some markets, but definitely worth considering. Besides its excellent performance, the Tuo also features a design that will blend in more harmoniously with the living spaces of your home. The Elite Tuo provides a maximum resistance of 1250 watts, a simulated uphill grade of 10%, and an accuracy of +/- 5%.   
The best mid-range cycling smart trainers 2021
Mid-range smart trainers are all direct-drive machines, meaning that you need to remove the rear wheel of your bike to attach them. This reduces unnecessary wear-and-tear on your rear wheel, and it makes the riding experience less noisy, more realistic feeling, and supplies much more accurate training metrics.
Competition in the mid-range trainer market has heated up significantly in the past year, so you can be assured that any of the following recommendations will supply great performance. Mid-range trainers are the sweet-spot for indoor cycling. You get an excellent training machine at a price that's significantly lower than the premium models that are featured in the next section.

Tacx Flux S - We decided to rank our recommended mid-level smart trainers based on price, which is why we're putting the Tacx Flux S first. It's the least expensive of the three, yet it still delivers a solid riding experience with accurate data. It's not the most silent direct-drive trainer on the planet, but the noise that it makes when you're pedaling isn't terribly loud or disruptive. The Tacx Flux S provides 1500 watts of maximum resistance, an uphill simulated grade of 10%, and an accuracy of +/- 3%.
Elite Suito - This model costs a little bit more than the Tacx Flux S, but to its great credit it comes with an installed cassette, which you need to purchase and install yourself (or have a local bike shop do it). You also need cycling-specific items to install a cassette like a lockring removal tool and a chainwhip. The idea with the Suito is to provide a high-quality mid-level trainer that you just pop out of the box and start riding without fussing with assembly. The stats are also a notch above the Flux S, with the Suito providing 1900 watts of maximum resistance, an uphill simulated grade of 15%, and +/- 2.5% of accuracy.
Wahoo KICKR Core - The main thing you need to know about the Wahoo KICKR Core is that it provides nearly the exact same riding experience and accuracy of the top-of-the-line Wahoo KICKR which costs $300 USD more. The main thing that's different about the Core is that it has a less adjustable stand and that it lacks a handle to more easily pick it up. The ride is near silent, and it's compatible with the Wahoo KICKR Climb unit which moves your fork up and down to simulate ascents and descents. The Core provides 1800 watts of maximum resistance, an uphill simulated grade of 16%, and an accuracy of +/- 2%.
Important direct-drive trainer tip: Most direct-drive trainers do not include a cassette (with the exception of the Elite Suito in this case). You can learn more about how to choose one and the tools you need to install it in our Build the Perfect Pain Cave post.  
The best high-end cycling smart trainers 2021
If mid-level smart trainers deliver such a great ride at a lower price, why even bother considering high end? When you get up into this category, you're dealing with the most advanced smart trainers ever made. They are even quieter when in use, provide the most accurate fitness data, and some of them have novel capabilities that make indoor cycling even more engaging.

Saris H3 - Our goal is to suggest "budget" cycling trainers, but this gets convoluted in the high end, but the Saris H3 truly is a premium smart trainer that's priced competitively. It's slightly louder than the other two nearly silent high-end trainers in this category, and it doesn't vibrate when you ride over virtual cobblestones like the Neo 2T, and it can't be used with the Wahoo Climb like the KICKR, but it does deliver an otherwise top-tier indoor cycling workout for a few hundred dollars less. The H3 provides 2000 watts of maximum resistance, an uphill simulated grade of 20%, and an accuracy of +/- 2%.
Tacx Neo 2T - When you spend a long time reading reviews written by real people who own the Tacx Neo, you get used to sentiments like "...this was the best cycling purchase I've ever made." The only knock against this model is that it isn't compatible with the Wahoo KICKR Climb accessory. Everything else about it is best-in-class. The 2T is the latest version which features improved internal components and left/right pedal stroke analysis, but if you can find a deal on the original Neo or the Neo 2, they are both excellent machines as well. The Tacx Neo 2T has a maximum resistance of 2200 watts, an uphill simulated grade of 25%, and an accuracy of +/- 1%. 
Wahoo KICKR 2020 - Of all of the smart trainers in this guide, the Wahoo KICKR is among the most iconic and beloved. The latest 2020 version features new AXIS feet that allow your bike to slightly rock side-to-side for a more realistic ride feel. This is one of the few smart trainers that ships with a cassette installed, and another way that it's different from the more affordable KICKR Core is that its flywheel weighs 16 lbs (7.25 kg), which is 4 lbs more (1.8 kg) than the Core. The KICKR 2020 has a maximum resistance of 2200 watts, an uphill simulated grade of 20%, and an accuracy of +/- 1%.
Great ways to use your indoor trainer
There are several excellent online cycling services that you can use with your bike trainer which require a monthly or annual fee, such as Zwift, TrainerRoad, SufferFest, the Peloton app, Rouvy and more. Some of these have free trial periods where you can test them out before you subscribe. There's also a virtual riding app called RGT Cycling (which stands for Road Grand Tours) that has a free tier. All of these platforms are worth trying to see which one suits you best.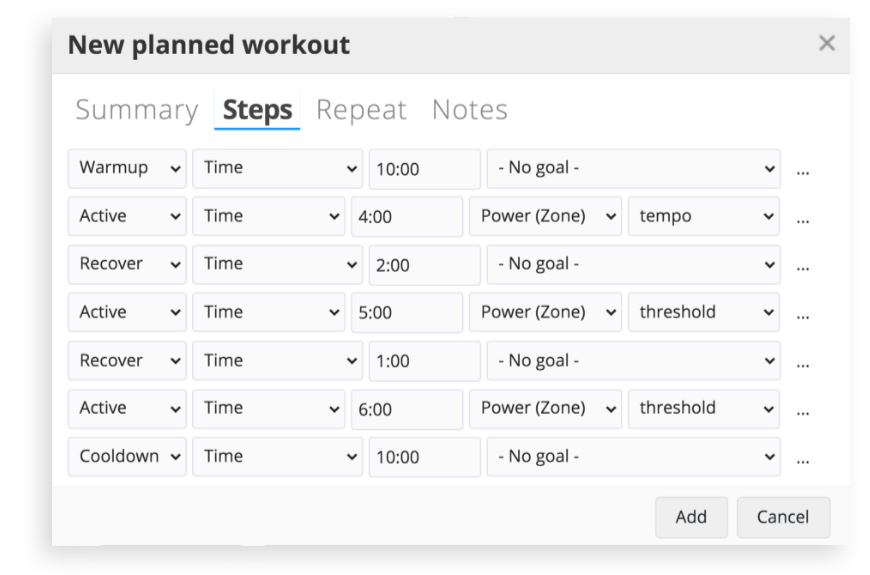 Creating a custom structured smart-trainer workout in SportTracks
A high-quality cycling workout generally consists of a warm-up period followed by short, medium, or long intervals of higher intensity with recoveries after each one, and a cool-down period at the end. It's actually rather easy to create your own custom cycling workouts and then use them in a bike computer or a sports watch to control your smart trainer. They can be made in SportTracks and easily loaded into devices that offer ANT+ and FE-C connectivity, such as the Wahoo ELEMNT Bolt and Roam, the Garmin 530, 830, and 1030 bike computers, and the Forerunner 945 and Fenix 6 watches. You can quickly create an entire reusable library of these workouts in SportTracks, and they will automatically be sent to Garmin devices when placed in your calendar.
SportTracks also provides advanced gear-tracking features, which is useful for indoor cycling equipment because it takes a beating. If you're serious about competitive cycling, can be helpful to know how many miles you can put on a rear cassette before it starts skipping. SportTracks makes it easy to track all of the separate parts of your indoor cycling setup individually, as well as each component of your outdoor bikes and other fitness equipment.
Get more information about cycling trainers
The point of this article is to recommend high-quality, budget-friendly bike trainers, but there's a lot more to these products than we can cover here. Thankfully, there's a dedicated endurance sports-tech reviewer who does an exceptional job of clarifying all of the fine details of these products. We're talking about Ray Maker, creator of the excellent DC Rainmaker blog. If you want to learn more about these products, that's the best website to visit.
Thanks for checking this out, we hope it was helpful! Be sure to have a look at our other articles about indoor cycling.
Image credit: kitchen cyclist photo by Michael Lokner
Article written by Sam Mallery, Director of Marketing, Zone Five Software Inc.