Endure by Alex Hutchinson
It's like Malcolm Gladwell wrote a book about endurance sports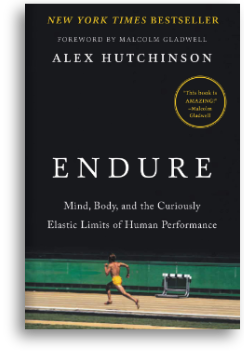 I'm always on the hunt for reading material that might unlock some sort of performance-boosting breakthrough for my personal running goals. After logging a disappointing A-race, preceded by an extra mentally draining training cycle this spring, I asked my coach if he had any recommendations that might help boost my mental game. He suggested Endure: Mind, Body, and the Curiously Elastic Limits of Human Performance by Alex Hutchinson, columnist for Outside Magazine, holder of a Ph.D. in Physics from Cambridge, and two-time finalist in the 1500 meters at the Canadian Olympic Trials.
A Gladwellian Read
Hutchinson's diverse and well-rounded resume which boasts impressive accomplishments as a journalist, scientist, and runner immediately piqued my interest, along with his exclusive press access to Nike's Breaking 2 project and the research, product development, and training leading up to it in 2017. Additionally, I'm a fan of Malcolm Gladwell's style of writing that seamlessly blends statistical data with anecdotal accounts to add meaning and practical application to what might otherwise, to the untrained eye, look like a random jumble of math and science. The reviews indicated that this was something Hutchinson did well also. (In fact, Malcolm Gladwell wrote the forward to Endure!). So, that settled it. I Amazon Primed myself a copy and dove right into my personal quest toward better understanding and overcoming my own running psyche.
As it turns out, Endure was not exactly the "Chin up! You can do anything you set your mind to!" go-girl guide to positive self-talk and validation I was seeking when I asked my coach for reading recommendations. What it was, however, was a well-crafted, smart, research and experience backed examination of the physiological factors that set the limits of human performance, and what keeps those limits elastic.
Smart Research, Gripping Anecdotes
Hutchinson showcases his abilities as a journalist and a physiologist in breaking the components of human performance limitations into the concise and easily digestible components of pain, oxygen, heat, thirst, and fuel. Each of these components was highlighted in its own chapter and supplemented with interesting anecdotal case studies which touch on feats of grit, endurance, and survival against all odds. Gripping examples range from a man who survived an entire week without water in the Mexican desert, to free diving dare devils, to Ernest Shackleton and his Antarctic expeditions of the early 1900s. I did, indeed, find Hutchinson's ability to weave together data-driven facts with fascinating accounts of triumphs of the human body and spirit, to be quite on par with Malcom Gladwell's style and story-telling ability as promised.
The Central Governor
An interesting theory that Hutchinson alludes to over the course of the book is South African physiologist Tim Noakes' idea of "The Central Governor." This theory suggests that performance limitations are not a result of failure or exhaustion of the skeletal muscles and heart, but the brain, which puts out a protective emergency override signal to the body's systems before they reach their maximal output limits.
"
...performance limitations are not a result of failure or exhaustion of the skeletal muscles and heart, but the brain...
This theory explains the curious case of an ultra-runner who is able to conquer multiple endurance running and thru-hiking records after having part of her temporal cortex removed, thus impairing her sense of time and interpretation of fatigue and pain. The Central Governor also holds up in the instance of a free diver who sets a new world record for the deepest unassisted dive at distance that had previously caused him to black out from oxygen deprivation as result of dramatic pressure changes in his lungs on his ascent to the surface.
The Breaking 2 Project and Personal Experience
Hutchinson further demonstrates his range as a storyteller and a scientist as he applies exercise science theory to his behind-the-scenes observations of Nike's original Breaking 2 project and his own running career and breakthrough performances. For me, this connection of abstract straight-out-of-the-lab scientific theory to both a real-life quest to push the known boundaries of human performance limits and the everyday training of an (exceptional talented and accomplished) runner added a compelling storyline and humanization to the academic text I might have otherwise dismissed as a dry and over-my-head read. Instead, I found myself quite captivated by this book from start to finish.
*Fun fact: When Endure was published in 2018, Kenyan marathoner Eliud Kipchoge had attempted, but not yet achieved his goal breaking 2 hours in the marathon. (See the final chapter of the book for Alex Hutchinson's personal account of his first attempt.) On October 12th, 2019 Kipchoge successfully broke the 2 hour mark, running 26.2 miles in a time of 1:59:40. After you've read Endure for yourself, take a look at Hutchinson's reflections and analysis of Kipchoge's performance (and the shoes he was wearing) in his column for Outside Magazine.
In Conclusion
Endure is a great place to let your inner running science nerd run wild with its well-tested physiology, human performance theory, and research. At the same time, this book will also appeal to the more emotions-driven reader with fascinating stories of human triumph beyond the limits they were thought to be capable and the tales and trials of Hutchinson's own competitive running career.
If I had to boil this book review down to a single sentence, I would say that it is where cool science of the body and brain and inspiring tales of pushing past limits and breaking through barriers intersect to form one interesting, informative, and well-rounded read.
Order Endure at Amazon.com
Article written by Ellen Moss, Social Media Manager, Zone Five Software Inc.