Run Fast. Cook Fast. Eat Slow.
Eat like a marathon champ: An interactive cookbook review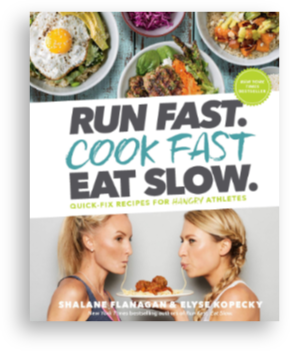 Guys, this cookbook truly changed my life. Like seriously. I'm not just saying that because I'm a Shalane Flanagan super-fan who longs to receive her internet validation for writing a glowing book review and posting it on the internet. (Although I certainly am that.) Run Fast, Cook Fast, Eat Slow taught me that with a little time and the right ingredients, I can create delicious, healthy meals for myself. It also taught me that vegetables can actually be delicious, and that it's possible to look forward to eating leftovers. So yes, epic game-changer for me, no doubt about it.
Like returning to a specific race to improve upon a previous time, this book is a second version. It's a sequel to the original which was titled Run Fast, Eat Slow. The new book offers simplified versions of many of the recipes from the original cookbook, plus some tasty new dishes and flavor variations as well. While the first book undoubtedly contains many delicious and nutritious meal options, the time-saving solutions of book #2 are imperative for a frantically busy, non-domestically inclined, attention-challenged, healthy-eater-wannabe gal like myself.
I have tried several of the recipes from across this book's various categories (it's conveniently organized into breakfast, lunch, dinner, sides, sweet and savory snacks, and sauces and dressings). But I think the most valuable thing I've taken from it are simple solutions for vegetable sides that can be added to any entrée, be it a delicious dish from the cookbook or a frozen pizza. Some favorites that I find myself using on multiple days of the week are Simply Roasted Vegetables (page 159), Sunday Sweet Potatoes (page 161), and Roasted Cauliflower and Potatoes (page 162).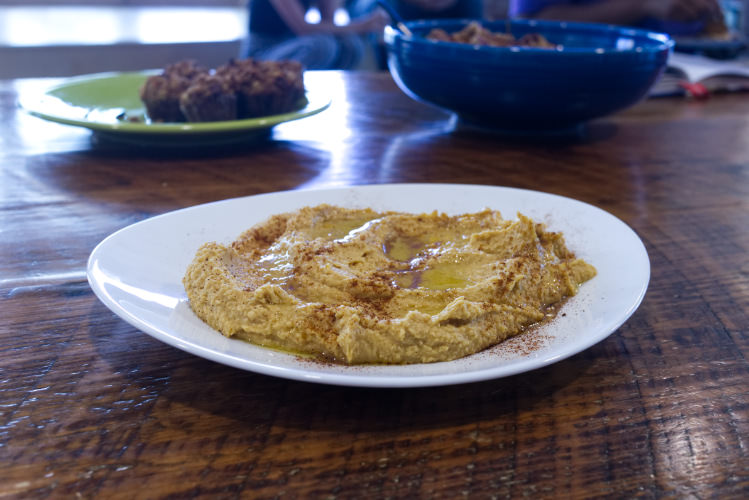 The Sweet Potato Hummus doesn't taste like yam; it's smoky, tangy and delicious
I certainly wouldn't describe this as an "eating healthy on a budget" cookbook. In fact, the primary criticism I hear in other reviews is that many recipes call for exotic or expensive ingredients. However, I've found that it has introduced me to many tasty cooking elements that I wouldn't have thought of, or even known about otherwise. Things like miso, tahini, and almond meal to name a few. I've noticed that these ingredients often repeat from one recipe to the next, so I can buy them and use them to make several different dishes vs. making one meal and having leftover exotic ingredients die a sad death of neglect in the nether reaches of my pantry.
"
Usually I just like the top of muffins, but I liked the whole thing.
—Jessica Russell, Director of People Ops at First
Furthermore, I find it very cool that this book offers numerous recipes for making things that I would otherwise buy pre-made, such as salad dressings, sauces, and even granola. And if all of that wasn't reason enough for you to drop what you're doing and rush out to buy Run Fast, Cook Fast, Eat Slow already, it's also positively chock-full of helpful tips for storing and reusing your leftovers, pairing specifics sides, sauces, and entrees, and it even has training and fueling tips from Shalane and Elyse themselves! Remember the date that you start eating this food and see if your charts improve in SportTracks!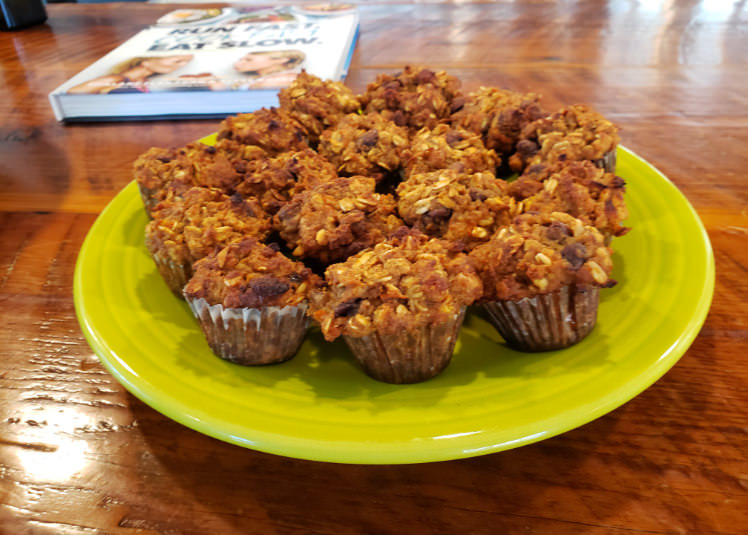 Believe us: you need Apple Carrot Superhero Muffins in your life
Clearly, I'm sold on the sundry merits of this cookbook, but my glowing endorsements were insufficient for earning the buy-in of my fellow SportsTracks team members. When I told them that I wanted to feature this book for our book review initiative, they insisted that we make it a group project. So, we pored over the various recipes at our weekly meeting, selected a few that seemed both delicious and more-or-less foolproof, and invited everyone who works in our co-working building to come out and put them to the ultimate taste test.
"
I would eat these muffins for breakfast every day!
—A co-worker who chose to remain anonymous
Sam made Sweet Potato Hummus (page 195) served with carrots and pretzel chips. Aaron made the Thai Quinoa Salad (page 90), and I made Apple Carrot Superhero Muffins with walnuts AND chocolate chips, even though the recipe suggests using only one or the other (page 60). The response from the community was TREMENDOUS! People came out of the woodwork to try our cookbook creations and their reviews were GLOWING! Plus, a local healthy energy drink startup called MATI was generous enough to contribute a few cases of their tasty beverages for the event.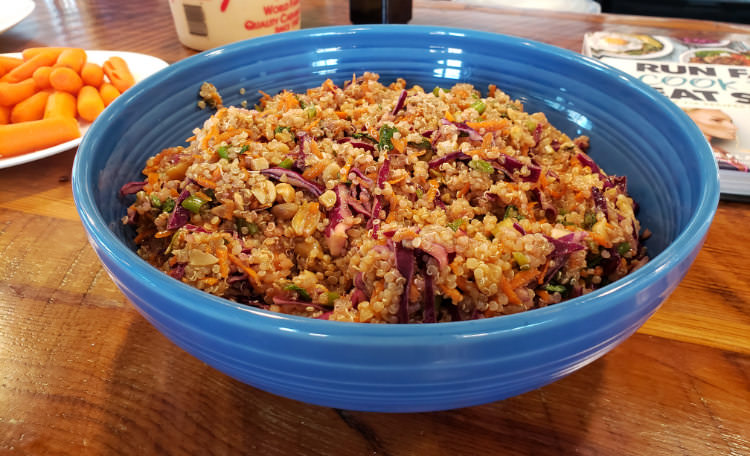 The flavor of the Thai Quinoa Salad gets even better when you chill it overnight 
Naturally, I was quick to point out that most of the enthusiastic quotes we were hearing were about the muffins, the thing that I made. Also, the muffins were the first thing we ran out of, which clearly demonstrates that I won our recipe sharing event, but I digress… Maybe it was just the mere fact that we were giving out free food, but we truly did receive nothing but gratitude and positive feedback from the folks who came out, and we were all in agreement that all three recipes were delicious. 
In conclusion, I think it's safe to say that the people have spoken. At most, Shalane Flanagan and Elyse Kopecky's Run Fast, Cook Fast, Eat Slow is a cool cookbook with lots of delicious recipes to help busy, active people prepare interesting, flavorful, and nourishing meals. And if nothing else, it's a cookbook that contains at least three recipes that have been proven to make you more popular and validated among your co-workers. In any event, I'm enjoying cooking my way through this book, and although a positive impact on my running remains to be seen, I'm certainly eating more vegetables than I EVER dreamed possible, and I know I have Shalane and Elyse to thank for that.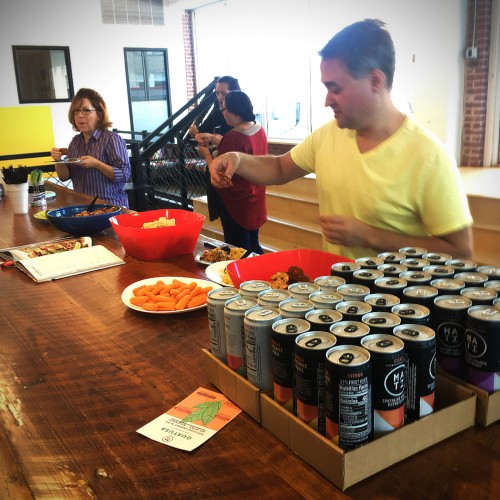 In addition to being an excellent resource for preparing quick (ish), healthy and delicious food, this book is also incredibly well-made and features many beautiful and delectable-looking photographs the make you extra-excited to try all the dishes. AND it has one of those lovely, flat spines that allows it to lay open on the counter without falling closed or inadvertently flipping to the wrong page. Another key selling point, if you ask me!
I hope that your experience with Run Fast, Cook Fast, Eat Slow helps you find the same joy in cooking (and in eating vegetables!) that I have! Do you have favorite recipe from this book? Please share it!  We would love to hear about it and maybe even serve it at our next team cooking event!
Article written by Ellen Moss, Social Media Manager, Zone Five Software Inc.