The Garmin Fenix 6
How the new Garmin Fenix 6 watches benefit endurance sports
The new Garmin Fenix 6 sports watches are here and they're packed with compelling features for athletes who need to track lengthy workouts. These watches get refreshed every year, and each update brings major advancements — such as special sensors that measure oxygen levels in blood and on-device mapping. The new advancement this year is especially intriguing: the flagship Fenix 6X Pro Solar Edition has built-in solar panels that charge its battery with sunlight.
The solar capability isn't there so you can live in the woods and charge your gadget off-the-grid, it simply gives the battery a little extra life when you do especially long workouts in the sun. If you've always wanted a watch with solar charging, only a couple of Fenix 6 models have it and they cost $999 and $1499 USD (the more expensive version comes with a matching titanium band).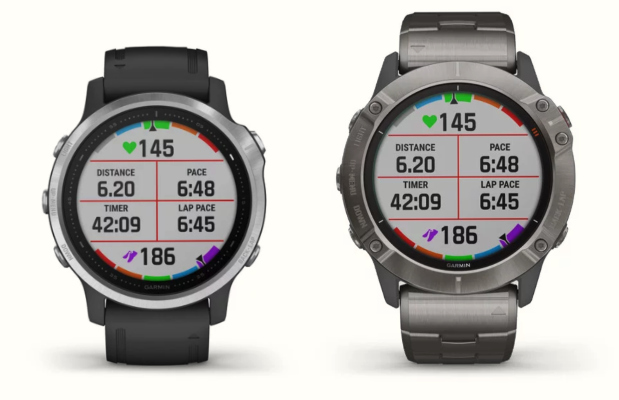 The "entry-level" Fenix 6S and the Fenix 6X Pro Solar Edition Titanium 
If you don't need top-of-the-line features, you can get a Fenix 6S starting at $599 USD. Clearly, that's not a budget-friendly price, but these are premium fitness watches. No matter which Fenix 6 you choose, they all offer impressive health and training features in metallic bodies with styling that pairs well with business attire. The screens are all larger this year, the bezels are smaller, and they're not as thick.
19 Different Fenix 6 Watches  
The Fenix 6 lineup consists of 19 different watches of varying sizes and finishes. If you're trying to figure out which one is best for you, it's easy to get confused. As far as size goes, just think of them as Small, Medium, and Large:
Small = the Fenix 6S, which have 42mm cases and compact mounting lugs, which makes them better suited for smaller wrists than last year's Fenix 5S Plus.
Medium = the Fenix 6 (a little confusing, right?). These have 47mm cases.
Large = the Fenix 6X models, which have 51mm cases.  
Built-in maps, music storage, and wi-fi do not come with every Fenix 6 model. The options at $599 lack these features. When you jump up $100 in price, you arrive at the "Pro" level of new Fenix 6 models, which include maps, music, and wi-fi. As someone who owns a Forerunner 245 Music GPS watch, I think it's worth it to pay extra for wi-fi. The moment I arrive home from a workout, my Garmin automatically jumps on my network, uploads my new workout, and it's already synced to SportTracks before I shut the door behind me. It's wonderful. Music and maps are just bonuses.
Go up another $100 and you arrive at the Sapphire Edition of Fenix 6 watches, which have scratch-resistant sapphire lenses. What's interesting is that the top-of-the-line Fenix 6 Pro Solar Edition watches don't have sapphire lenses. They have "Power Glass" lenses that act as solar panels. All of the non-sapphire Fenix 6 watches, including the Solar versions, have durable Gorilla Glass 3.
New features for endurance sports
The Fenix series of watches have always had heavier, chunkier bodies when compared to the lightweight plastic bodies of the Forerunner series. Despite the extra girth, the Fenix 6 series provides more battery life for ultra-distance athletes, who ironically need to be mindful of every gram of weight they carry. The various modes on the Fenix 6 make it attractive for ultra-endurance events:
| | | | | |
| --- | --- | --- | --- | --- |
|   | Fenix 6S | Fenix 6 | Fenix 6X | Fenix 6X Pro Solar |
| Smartwatch Mode | 9 days | 14 days | 21 days | Up to 24 days |
| GPS Mode | 25 hours | 36 hours | 60 hours | Up to 66 hours |
| Max Battery GPS Mode | 50 hours | 72 hours | 120 hours | Up to 148 hours |
| Expedition Mode | 20 days | 28 days | 46 days | Up to 56 days |
| Battery-Saver Mode | 34 days | 48 days | 80 days | Up to 120 days |
GPS is not recorded in Smartwatch Mode, nor in Battery-Saver Mode (which essentially turns your Fenix 6 into an ultra-basic clock).
GPS Mode = Normal, highly detailed workout tracking where you have access to music, heart rate, and notifications.
Max Battery GPS Mode = This mode is also known as UltraTrac, and records GPS less frequently.
Expedition Mode = A GPS point is only recorded once an hour, and the watch will do little else besides tell you the time and date
There's also an option called "Jacket Mode" which turns off heart rate, in case you want to wear the watch on the outside of a sleeve.
Customize your battery usage with Power Manager
If you want to customize the power-usage settings, you can use the new Power Manger options in the Fenix 6. You can choose various features to enable or disable, and the watch will tell you how much battery life you gain or lose by using various items. For example, turning off wrist-based heart rate gains you 14 hours of battery life.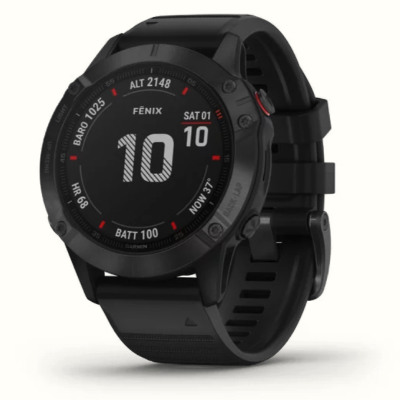 The Garmin Fenix 6 Pro gets 72 hours of battery life in UltraTrac mode 
You get more Data Fields
You can now see more Data Fields on the new Fenix 6 watches, compared to past models. The Fenix 6X models can have up to 8 Data Fields. The medium-sized Fenix 6 and smaller 6S can display up to 6 Data Fields.
Swimming heart rate is here
Getting real-time heart rate data on a Garmin watch is a feature that's been desired for a long time, but is only becoming available now. The new Fenix 6 series watches are all capable of reading, recording, and displaying heart-rate data while swimming. And, according to Ray Maker, this feature is also coming to the Forerunner 245 and the 945. It's exciting that swimmers and multi-sport athletes will be able to leverage heart-rate training principals in the water, and use them in conjunction with other swimming zones.
Pace more effectively with PacePro
A new feature called PacePro acts as your pacing assistant during training sessions or races when you want to hit specific pace targets at specific points in a course. You can add a course and your time goal, adjust for a negative or positive split, and adjust how aggressively you want to attack the hills. PacePro will calculate it and keep you informed as you make your way through the course. This feature is also coming to the Forerunner 945 and Forerunner 245 at a later date.
Find your favorite Map Themes
Color mapping came to all Fenix models last year with the 5 Plus series. This capability is enhanced in the new lineup with the Map Themes feature. You can change the maps to the High Contrast or Dark Mode options, which may look more pleasing to your eye, and the Popularity theme adds Garmin's Trendline Popularity heatmaps. There are also themes styled for Marine and Skiing, the latter of which will perhaps be useful when utilizing the 2000 ski resort maps that come preloaded.
How is it similar to the Forerunner 945?
A few years ago when the Forerunner 935 was announced, it shared many similarities with the Fenix 5 watches, as far as functionality goes. This year those roles have shifted. The Fenix 6 line has a long list of new and exclusive features, but these watches also inherit many features from the Forerunner 945, and the ultra-high-end Garmin MARQ watches.
The underside of the Fenix 6 watches all feature the 3rd generation Garmin Elevate heart-rate sensor. This is the same array found on the 945, and the PulseOx sensor is present as well. Like the 945, the Fenix 6 watches all have incident detection (they notice if you crash and send for help), and the Safety Tracking Assistance feature, which is similar except you initiate the call for help with button presses. Fenix 6 watches have many features that try to measure your physical state like Respiration Rate, detailed Training Effect feedback, Body Battery functionality, heat and altitude acclimation, and a race predictor and VO2Max estimate with higher accuracy.
Last year's Fenix 5 Plus watches had the ClimbPro feature, which shows how much climbing remains on your route. What's new this year is that, like the Garmin Edge 530 bike computer, the climb data is color-coded to display intensity.
Final thoughts...
In years past, only the top-of-the-line Fenix 5X featured a PulseOx sensor, and now that technology has trickled all the way down to Garmin's inexpensive vivosmart 4 activity trackers. It would be exciting if built-in solar charing features followed the same course.
If you need a watch that looks more at home with a suit or other business clothes, or if you're the type of person who prefers metallic watch materials instead of plastic, I think the new Fenix 6 line offers a compelling option. You get all-day activity tracking, excellent sleep tracking capabilities, incredible workout tracking options (especially for long-distance), the power of ConnectIQ and everything Garmin has to offer. And of course, deep integration with SportTracks as your training and racing platform.
Article written by Sam Mallery, Director of Marketing, Zone Five Software Inc.