The new Garmin Instinct Solar
How the Garmin Instinct Solar is different from the original Instinct
If you thought the destiny of all modern watches was to get thinner and smaller, then you might be surprised at the wild popularity of Garmin's Instinct line, which are intentionally thick and bulky. Garmin just expanded this series with the new Instinct Solar, adding several big upgrades and improvements and the best-ever battery life of any Garmin wearable.
It's easy to mistake the Instinct Solar is just another rugged outdoors watch, but it has most of the features in Garmin's high-end GPS sports watches. It lets you track all of your runs, rides, swims, hikes and adventures, and thanks to our auto-sync partnership with Garmin, all of your activities are automatically loaded into SportTracks for analysis and planning.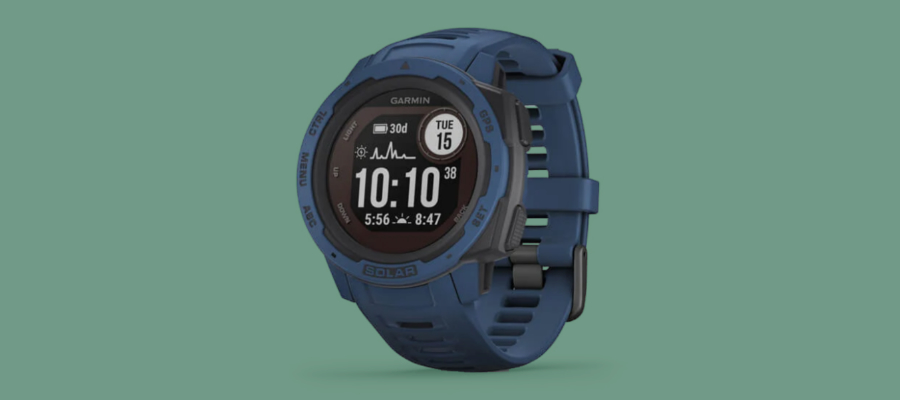 The show-stopping feature of this new model are its built-in solar panels and the dramatic increases they can bring to battery life. An energy-saving Sony chipset is also onboard, as is the Garmin Elevate optical heart-rate and Pulse Ox sensor array, both of which help to make the battery life of the Instinct Solar exceptional.
What's different about the Garmin Instinct Solar? 
The new Instinct Solar looks almost identical to the original Garmin Instinct, which was released back in 2018. But there are a few visual changes you can see: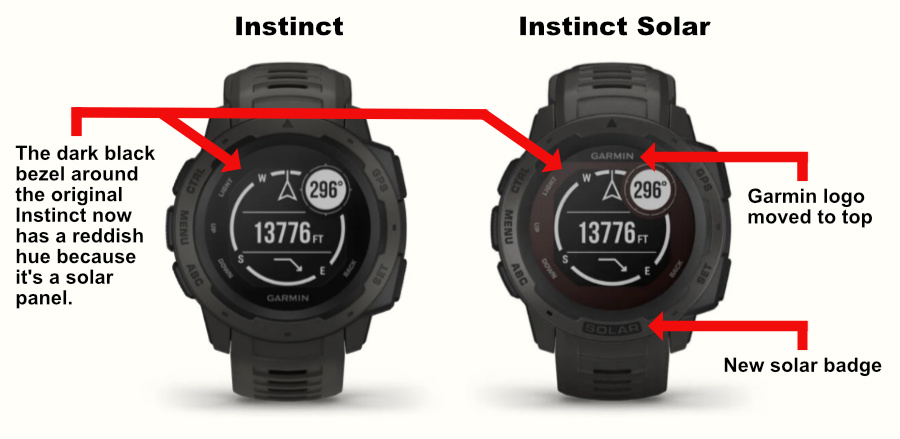 The solar panel around the bezel of the Instinct Solar is significantly larger than the one on the Fenix 6X Pro Solar Edition, which was released in September 2019 and was Garmin's first solar-capable watch. As you would expect, the larger panel captures more energy and delivers longer performance.
The Instinct Solar can last from 24 to 54 days in Smartwatch Mode, but it needs direct sunlight for 3 hours a day for maximum life. It also has a Battery Saver Mode that delivers from 56 days to unlimited life, but again, it needs a daily dose of exposure to 50,000 lux light for 3 hours. For sports tracking, GPS Mode gets from 30 to 38 hours with sun. Max Battery GPS Mode delivers 70 to 145 hours, and an Expedition GPS Activity Mode provides 28 to 68 days with sunshine.
The other visual change is the Garmin Elevate optical sensor array on the back of the watch: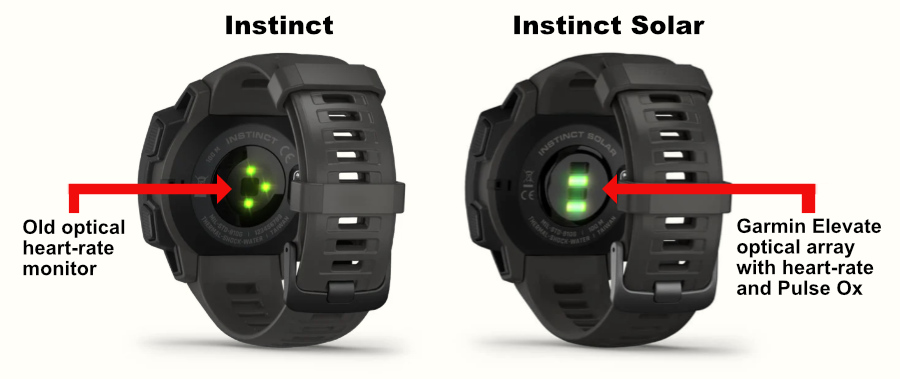 The Garmin Elevate optical sensors are more power efficient than the older heart-rate monitor, and it now provides a Pulse Ox sensor as well. This measures your SpO2%, which can tell you how well your body is absorbing oxygen. When you take a Pulse Ox reading, you get a percentage that should be 95% or higher. Low readings can be a sign of trouble, especially at higher altitudes. You can learn more about Pulse Ox in our Heart-Rate Monitor Tech article.
Another advantage of the heart-rate monitor on the new Instinct Solar is that it now works underwater. If you want to gain a competitive edge, this new capability lets you utilize heart-rate data to improve swim performance. The Instinct allows you to track lap-pool swims, but it also has the ability to track open-water swim workouts, a feature that isn't available on popular watches like the Garmin Forerunner 245.
What's missing on the Garmin Instinct Solar?
Even though the Instinct Solar has many of the features of the top-of-the-line Fenix 6 series, there are several big omissions. Most notably, it cannot access Connect IQ, which is Garmin's app ecosystem. There's a vast number of excellent apps and custom data screens available on Connect IQ that are all free and made by both Garmin and third-party developers. This makes it possible to choose from hundreds of watch faces, rather than the meager 12 that come with the Instinct Solar.
This also means you can't use external sensors like the Stryd foot pod or the Garmin Running Dynamics Pod. If you need a watch that supports running power, you need to look elsewhere because the Instinct series is incapable. It's a shame because Connect IQ adds so much to the Garmin watch experience. Connect IQ apps and data fields can provide lots of unique and valuable performance data, which you can analyze with your other fitness metrics in SportTracks.
Also take note that the screen of the Instinct is monochrome, not color. There are no maps, just breadcrumb navigation. If you're a triathlete, understand that there are no multi-sport modes on the Instinct Solar.
Final thoughts...
There's a lot to like about the Garmin Instinct watches. They're built tough with thermal and shock resistance, and waterproof up to 328 feet (100 meters). There are several different colors available, from eye-catching Flame Red and Sunburst Yellow, to more subdued blacks and grays. Speaking of dude, there's a Surf Edition of the Instinct Solar available, which features tide data and a surfing sport mode. Like the original Instinct, there's also a Tactical Edition that's compatible with night vision and features a stealth mode.
Here are some more appealing features:
Supports GPS, GLONASS and Galileo satellite systems
Supports smart notifications (texts, calls, emails, social media, etc.)
A Power Manager feature lets you create custom battery-saving modes to suit your needs
Includes an altimeter, a barometer, and an electronic compass
A back-to-start feature can help you navigate to back to safety
The circular cut-out screen on the display makes it a more intuitive device  
Thanks for checking out this post! You can learn more about recent Garmin sports devices here. 
Article written by Sam Mallery, Director of Marketing, Zone Five Software Inc.