Swim Tracking with Garmin
Should you use a sports watch to track your swims?
If you've ever been near the starting line of a running race and experienced the hive-like buzzing and beeping of sports watches, you understand how widely embraced technology is in running. The use of tech in endurance cycling is also extremely popular; many cyclists consider their power meters to be the most important part of their bikes. But, does the same hold true for swimming?
Like any sport, advanced tech isn't for everyone. Some swimmers prefer the task of counting laps in their heads and using poolside pace clocks or basic waterproof watches to measure their workouts. For gliding purists, the slight drag created by watches or heart rate straps is a nonstarter. But, the benefits that technology provides swimmers more than makes up for its quirks for a great number of people.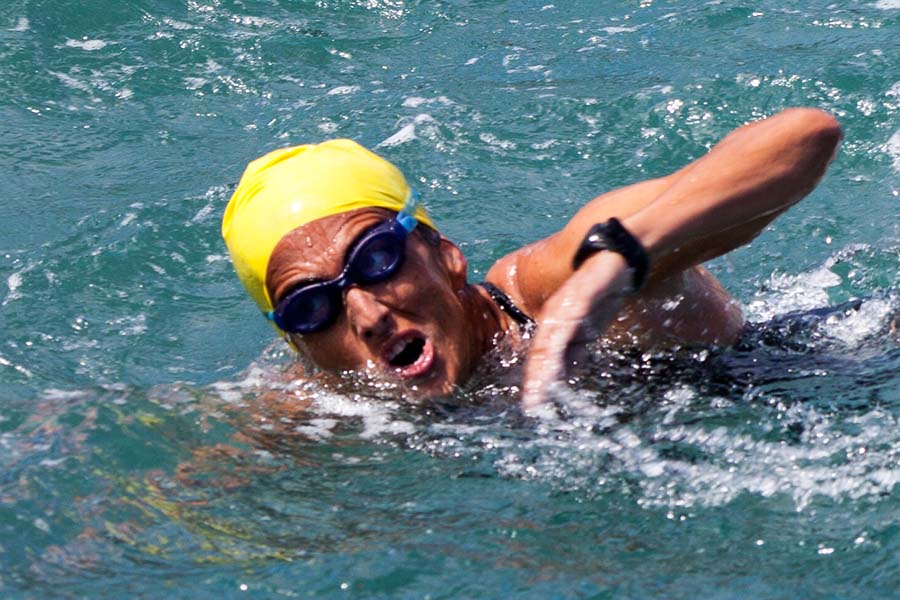 What quirks, you ask? Swim tracking poses challenges that aren't as prevalent in other sports. For example, an indoor pool can be a difficult (or impossible) place to establish a reliable link to a GPS satellite, which can generate inaccurate mapping data. Swim watches also have a tendency to inaccurately register wall turns and laps — especially when you're first getting familiar with the quirks of a specific device.
It's far from perfect, but, do the downsides of swimming tech make it a bad idea? This answer is largely based on personal opinion, but here at SportTracks, we think it's extremely beneficial in its current incarnation, and will only improve with time. Sure, as makers of some of the best swim analysis software on the planet, we're a little biased. :) But, here's a fact that warrants deep consideration: Advanced swimming tech helps many athletes dramatically improve their times.
...here's a fact that warrants deep consideration: Advanced swimming tech helps many athletes dramatically improve their times.
How? For starters, since you don't have to count laps, you can instead focus the majority of your attention on optimizing form. This simple benefit alone offers potentially huge rewards. Plus, tracking and logging every swim workout enables you to see the bigger picture of your overall fitness, which is crucial for race preparation. I'll cover more of the benefits of swim tracking later in this article, but first, let's take a look at the swim gear itself.
Which swim tracker "suits" you?
The latest swim-capable GPS watch was just announced yesterday. The new Garmin FR735XT is designed for triathletes, but it can be used by anyone who wants a swim watch with the latest tech. The FR735XT has a built-in heart rate monitor, but unfortunately, you need to wear either the Garmin HRM-TRI or HRM-SWIM chest strap to monitor and record your heart rate in the water. 

Another popular option that's also nicely outfitted for triathletes is the Garmin 920XT. While it's slightly more bulky and doesn't have as many new features, its battery lasts a bit longer than the FR735XT. This has been the go-to watch for many serious athletes over the past two years, even though a chest-worn heart rate monitor is required for HR data. 
A watch called the Garmin Swim has a much more attractive price, and it doesn't utilize GPS. This makes it a good option for training in indoor pools. The Garmin Fenix 3 and Fenix 3 HR have a robust design and some interesting features (such as a fishing mode). The older Garmin 910XT still delivers some great swimming features, and if you're not into Garmin, the Suunto Ambit 3 is a solid option. 
The real benefits of swim tracking 
Detailed swim data isn't a bunch of meaningless numbers and charts. It's useful information about your personal performances that reveal formerly unseen strengths and weaknesses. Analysis software makes you aware of stroke count, rest times, pace, and training zones (providing your watch records this information). Here are some ways this data is used:
Some swimmers see their stroke efficiency improve when they execute specific sequences of "mixed stroke" drills (which usually involves alternating between backstroke and freestyle). Their swim data enables them to determine the most effective stroke sequences that deliver the best overall efficiency.
Many swimmers see their stroke efficiency decrease during long swims. Instead of achieving the negative split they had trained for with ladder sets, they end up working harder without going faster. Analyzing your swim data makes you aware of this common downfall so you can train to improve it.
Is the duration of your rest intervals maximizing your efficiency? You may find that taking 30 second rests (as opposed to 20 seconds) improves your overall efficiency. However, without data analysis, you're largely in the dark.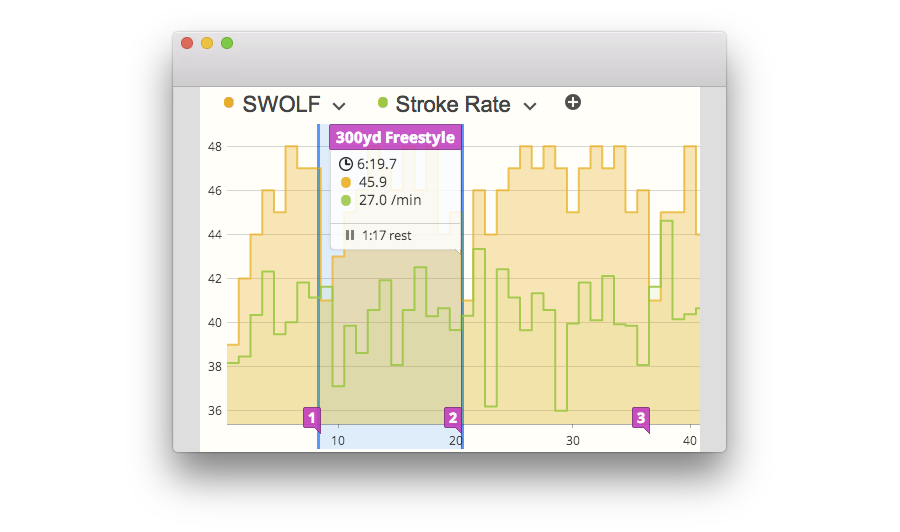 Reviewing your swim workouts in SportTracks equips you with stroke performance charts, and offers full analysis of sets, intervals, distance and SWOLF. Plus, our software leads the industry in accurate heart rate data from chest-worn heart rate straps. To be blunt, if you invest in a Garmin FR735XT and a HRM-SWIM  or HRM-TRI chest strap, you simply will not see actionable heart rate swim data unless you use SportTracks. Period.
The bottom line is that tracking and logging swim workouts can benefit any athlete who is training for a specific competitive event. Even swimmers who don't care for the minutia of data will gain a distinct strategic advantage by utilizing training load and performance charts for accurate tapering. If you disagree, go jump in a lake. ;)
Photo credit: barshy (Flickr) Creative Commons Attribution 2.0 license
Article written by Sam Mallery, Director of Marketing, Zone Five Software Inc.