Best Budget Smart Trainers 2019
The Best Affordable Trainers for Entry-Level, Mid-Range and High End
When you're shopping for a smart trainer for indoor cycling, you quickly realize there's a large number of models to choose from — and it isn't obvious what makes each option different. You can spend hours doing in-depth online research, but if you don't have the time, this post will do that work for you. Below you'll find our 2019 picks for the best affordable smart trainers in the entry-level, mid-range, and high-end categories. They provide the best value for the money, and we explain why we picked each one.
The Best Entry-Level Smart Trainer:
Tacx Flow Smart
Every year new smart trainers come out that improve upon the older models, but unfortunately, this has only been happening in the mid-range and high-end categories. That's why our pick for the best entry-level smart trainer in 2019 is still the Tacx Flow Smart, which is the same one we chose in last year's post. It's a "wheel-on" trainer, which means the rear wheel of your bike makes contact with the trainer. This causes wear, so it's best to use a dedicated trainer tire instead of a regular road tire. You can learn more about wheel-on trainers and other important details in our Understanding Bike Trainer Tech article.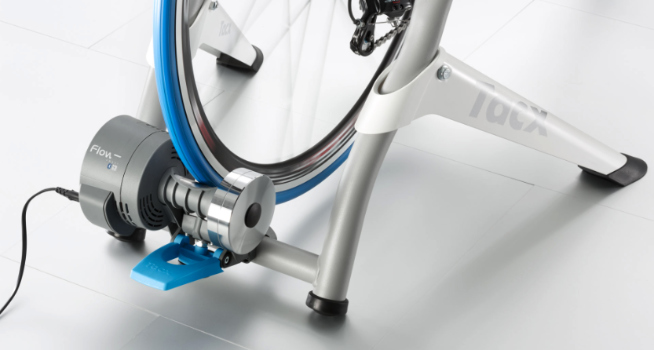 The usual price for the Tacx Flow Smart is $370 USD, but it tends to be significantly less expensive in Europe and some other territories. The Flow Smart provides cadence, power and speed metrics, and works nicely with Zwift and TrainerRoad. It handles both "Sim" mode (which simulates normal riding and racing) and "ERG" mode (which forces you to hold specific wattages for training purposes).
Why isn't there a new recommendation this year? Indoor smart trainers are complicated mechanical devices, which makes it difficult to produce a quality product at an entry-level price. The big drawbacks for entry-level smart trainers are that they're not as accurate, they tend to have shorter lifespans, and they're noisy. This is why many people choose to save up to buy a mid-range trainer. But, having decent entry-level options is still important. If the Tacx Flow Smart is out of your price range, another decent option is an Elite Novo Smart. It's similar and should be a bit more affordable.
If you save up a little more money for a better quality wheel-on trainer, what does that get you? In the case of the Wahoo KICKR Snap, the main difference is a heavier flywheel, which weighs 10.5 lbs (4.76 kg). Comparatively, the flywheel on the Flow Smart is 3.5 lbs (1.6 kg). This provides a more realistic riding feel, better inertia when you stop pedaling, and better metrics with an accuracy of +/- 3%. Tacx claims the accuracy of the Flow Smart to be +/- 5%. 
The Best Mid-Range Smart Trainer:
Wahoo KICKR Core
Stepping up to a mid-range smart trainer is a more involved commitment. The trainer is going to cost more money and will be somewhat larger and heavier, but you'll have a better experience every time you ride, and it should last significantly longer and provide more longterm value. Those words were a good description of the Wahoo KICKR Core, which is why it's our pick for the best mid-range smart trainer for 2019. 
If you checked out our recommendations in last year's edition of this article, you likely noticed that the KICKR Core was our pick for the best high-end smart trainer. It's been relegated to the mid-range this year because the options in the high-end have changed dramatically in 2019. What makes the Core great is that it delivers a high-end experience at a mid-range price. It's a "direct-drive" trainer, which means you need to remove the rear wheel of your bike in order to mount it. A rear cassette isn't included, so you need to buy one and install it in order to ride. The Core delivers quiet operation with a realistic feel, and you won't put any wear-and-tear on your rear wheel.
The KICKR Core is essentially just as good as the top-of-the-line Wahoo KICKR, which costs $300 more. The only thing that makes the Core less desirable is its stand. The stand of the top-end KICKR has three legs with adjustable height, and a built-in handle that makes it easier to pick-up and move. Besides that, they're nearly identical. Both Wahoo smart trainers are compatible with the KICKR Climb, which is an additional accessory that raises and lowers the fork of your bike, simulating hills and descents. The Core isn't the cheapest mid-range option available, but its advanced mechanics and capabilities make it stand out above the rest.  
The Best High-End Smart Trainer:
Tacx NEO 2T Smart
Our 2019 pick for the best high-end smart trainer on a budget is the Tacx NEO 2T. Admittedly, calling the NEO 2T a "budget" trainer is incorrect. In fact, it's the most expensive model on the market. But 2019 is a different kind of year because there are now several "smart bikes" available, which are essentially the same types of products, except they're complete (you don't need to attach a bike to use them). Smart bikes currently start at $2500 USD and go up to $3500. With this in mind, the NEO 2T starts to look like a bargain.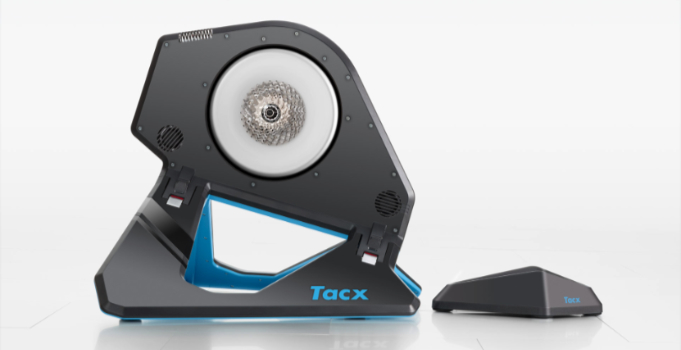 This is the third generation of this product, which began with the original NEO back in 2015. Interestingly, the NEO 2 came out less than a year ago, and Tacx has already updated it with the 2T. Every version of this trainer has been Tacx's premium, top-of-the-line model. They all deliver excellent ride feel with the largest flywheel available, excellent accuracy, nearly silent operation, up to 2200 watts of resistance, 25% of simulated grade incline, and more. They also have a few party tricks that you won't find on other trainers, such as a motor that drives the flywheel to simulate gained speed from downhills, built-in vibration to simulate surfaces in Zwift like planks and cobblestones, and ground effect lighting below the unit that changes color depending on how hard you're pedaling.
The NEO 2 added new pedal stroke analysis and left/right balance metrics, and updated some internal components to improve ERG mode, cadence accuracy, and more. There were also some new internal parts added that were said to add future capabilities, which have still not been announced. Essentially, it wasn't a big change from the original NEO. The same can be said of the new 2T. What makes the new model different are merely refinements to the types of magnets and their related parts, and the thickness and configuration of the wiring. Non-titillating updates, but these changes have improved how the 2T handles low-speed sprints and wattage changes in ERG mode over the NEO 2.
Choosing between a Tacx NEO and a Wahoo KICKR essentially boils down to one decision: if you want the ability to use the Wahoo Climb, you need to get a KICKR. If you want to feel the bumps of virtual cobblestones as you ride, you need to get a NEO. Please note that a cassette isn't included with the NEO 2T, so you will need to purchase one and install it if you get one. In fact, there are many accessories that make indoor bike training far more enjoyable, and we explain them all in our Build the Perfect Pain Cave post.
One last tip: when you get your indoor trainer, be sure to track its usage. It's helpful to know how much milage you put on your gear. This gets a little tricky with indoor cycling, because you're typically using some parts of your bike, but not all of them. We fully explain this process in our Pain Cave Gear Tracking post.
Hopefully this information has been useful! Train hard and train healthy! 
Article written by Sam Mallery, Director of Marketing, Zone Five Software Inc.