The US Olympic Trials Marathon
The thrill of watching runners pursue their Olympic dreams
In the past week the entire spring racing season was cancelled and my local grocery store has been sold out of produce and toilet paper for days. It's crazy to think that two weeks ago I willing placed myself in a close-contact crowd situation and that felt perfectly normal and socially acceptable. In the midst of this age of hand sanitizer and social distancing, I thought it might be nice to reflect on a different era of celebrating the running community and human interaction. So, I'm going to tell you about my experience of watching the US Olympic Trials Marathon.
On Friday, February 28th my boyfriend, my running bestie, and I loaded up the car and our best Radio Hits of the 90's Spotify playlist and made the 6+ hour drive from Durham, NC to Atlanta, GA. Our voices were hoarse from multiple hours scream-singing jams from Usher, Britney Spears, and Ludacris long before starting gun for the race went off.
When we arrived in at Atlanta we attended a happy hour meet up organized by On ZAP Endurance, which is a training center for elite runners (several of their athletes were running the trials) that also provides remote coaching for everyday runners like me. After rubbing elbows with some Olympic hopefuls, we made our way to the AirBnB we were sharing with several other running friends from Durham.
The next morning, race day, we woke up early and headed out for our long run, which we did on the marathon course! The men's race started at 12:00 p.m. and the women's race started at 12:20, so there was plenty of time to log some big miles before the main event. After grabbing some brunch and bundling up in our fleece onesies (it was surprisingly cold and windy for an early spring weekend in Atlanta) we made our way to Centennial Olympic Park to watch the start of both races. Check out these awesome pics we snapped of the starting line action!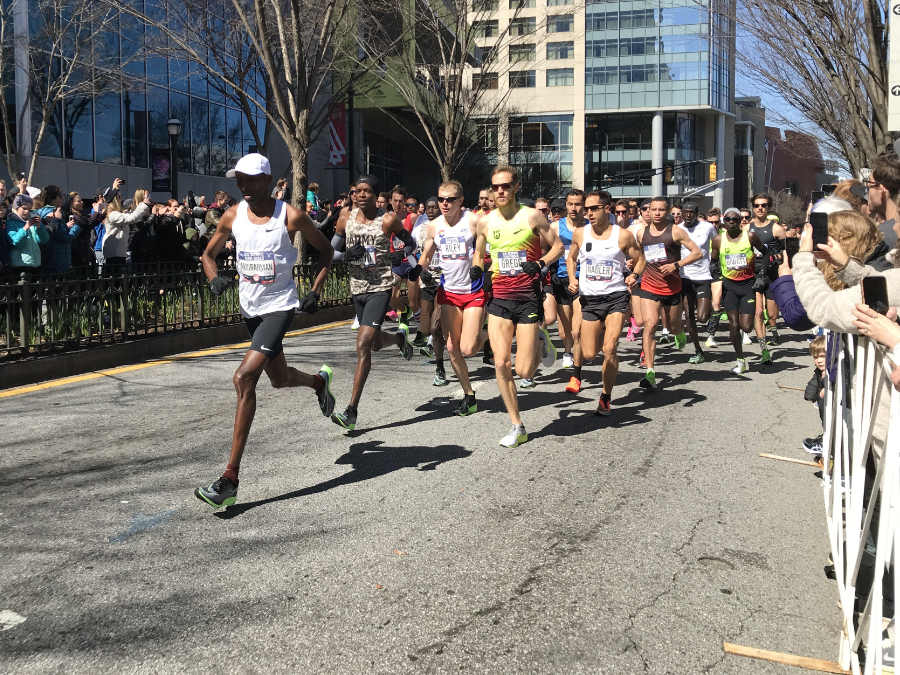 Men's race field just after the start gun. Photo Credit: Ellen Moss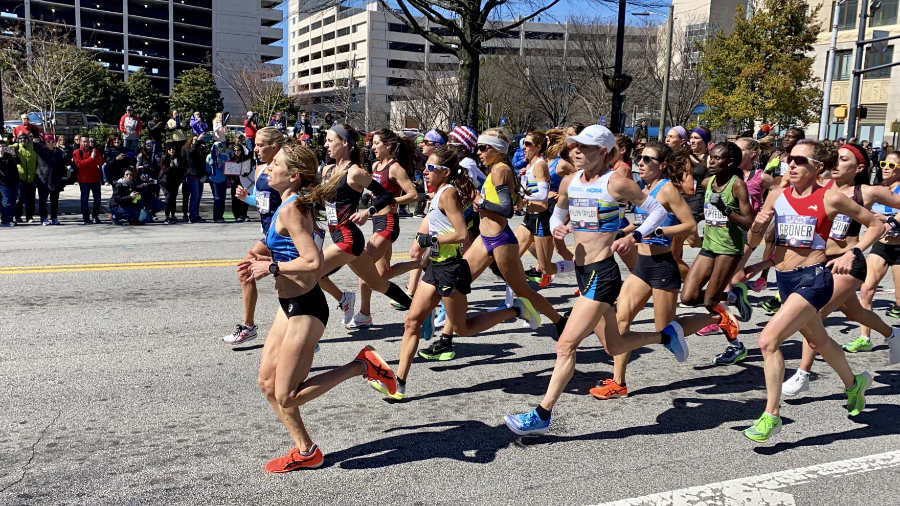 Women's lead pack early in the race. Photo Credit: Torrie Edwards
Once the race was underway we trekked over to Peachtree Street for a better view of the action. The course consisted of three eight-mile loops that took the runners down Peachtree and then back up it in the opposite direction, through Atlanta's Old Fourth Ward neighborhood, and the back to downtown. Plus, a 2.2 mile final loop that wound under the Rings and Torch structure from the 1996 Olympics, by the Georgia State Capitol building, past the city's various sports stadiums, and finally to the finish line back in Centennial Park.
This course configuration made for excellent spectating. With the men's and women's races starting at different times, and the route passing up and down Peachtree in both directions, there was seldom a moment that runners weren't passing by. The quality of our spectating experience was further elevated by cheer stations along Peachtree Street courtesy of the various vendors and coaching outfits sponsoring the athletes running the race. Our favorites were the On ZAP Endurance cheer corner, complete with free snacks, booze, cowbells, and cardboard cutouts of the faces of each of their athletes who were running, and the Oiselle cowbell corner where most spectators were sporting fleece onesies (or Yetis, as they are branded by Oiselle) just like ours.
It was also incredibly cool that five of the women racing were from our area, and one of them was competing as member the very track club that is associated with the running store where I work. Cheering for people I KNOW IN REAL LIFE was a great thrill indeed!
Although the course lent itself well to watching from the sidelines, the hilly nature of it, plus the frequent wind gusts that day surely made it brutal for the runners. Despite our best efforts, we weren't able to hustle back to Centennial Park in time to see the winners cross the finish line. (Those onesies got very hot and cumbersome and this really slowed us down.) But on our (very long) journey back to our car we found ourselves right on the final 2.2- mile loop right as our pack of hometown women were coming through. The final ascent into Centennial Park seemed particularly steep and windy, and it was obvious that many of the runners were digging deep to make the final push to the finish. We did our best to match their efforts with the loudest, most enthusiastic yelling and cowbelling we could muster.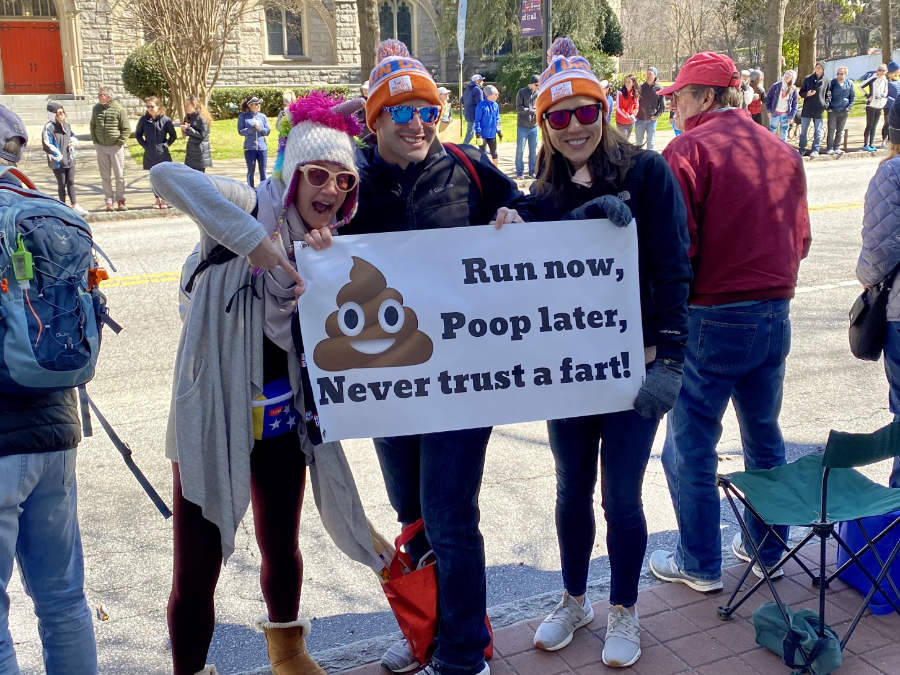 Ellen, Erica and Brad cheer on runners with inspiring words of encouragement.  Photo Credit: Torrie Edwards
The final race results were exciting and surprising. The top spot in the men's race was occupied by Galen Rupp, who won handily with a time of 2:09.20. Rupp also won the 2016 Olympic Trials Marathon, making him the only second man (after American marathoning great Frank Shorter) to win two US Trials. He raced the trials under the guidance of his new coach, Mike Smith, after his former coach Alberto Salazar received a doping ban in 2019.
The second-place finisher among the men was Jacob Riley, a first-time Olympian and unsponsored athlete. Riley finished 43 seconds behind Rupp to secure his spot on the 2020 Olympic team. The final spot on the men's team was clenched by 43 year old Abdi Abrdirahman, making him the oldest US Olympic runner in history. Abdi is a seasoned 5-time Olympian, having made the team in 2012 with a 3rd place finish at the trials. He missed the 2016 trials due to a calf injury.
The women's race was the closest on record with winner Aliphine Tuliamuk of the Northern Arizona Elite Hoka team edging out second place finisher Molly Seidel of Saucony by only seven seconds. Seidel became the first woman ever to make the US Olympic Team in her debut marathon. Both Tuliamuk and third place finisher Sally Kipyego of the Oregon Elite Track Club are native Kenyans who became US citizen after stateside collegiate running careers.
The athletes who earned spots on the 2020 US Olympic Team did so by prevailing over the deepest field in the history of the Olympic Trials Marathon. Four years ago in 2016 370 men and women qualified for and ran the marathon trials. This year nearly 700 runners, about 480 women and 215 men toed the line in Atlanta. Men were required to run a standard of 2:19 for a marathon or 1:04 for a half marathon, while women had to run a 2:45 marathon or 1:13 half marathon to earn a spot in the race.
My inner feminist running nerd was utterly delighted to watch those hundreds of speedy women, many of whom balance full-time jobs, parenting children, and training their butts off, zoom around that tough, windy course again and again on that Saturday afternoon. After the race, the awesome women from Oiselle (a company that creates fabulous running apparel for women designed by women runners) threw a kick-ass party that was a perfect celebration of their athletes who competed in the trails, their fantastic gear which encompasses the intersection running function and fashion, and the beautiful and diverse women's running community at large. After a night of photo booth shenanigans, fashion show fun, more scream-singing, and lots of VERY sweaty dancing, we made the drive home to Durham feeling hungover, exhausted, hoarse, and absolutely fulfilled.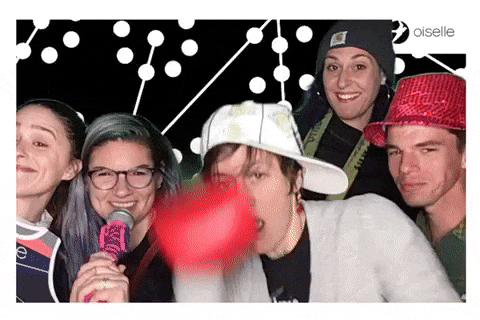 Ellen is VERY GOOD at photo booth! Boomerang Credit: Yvonne Monet Photography
And that was the last time I felt normal and at ease in a large group situation. Since then, I've been channeling the grit and inspiration of those Olympic Trials Marathon athletes to get up and out the door for my daily run in this time of social distancing. I am so grateful that current recommendations for flattening the curve of the coronavirus spread do not impact my ability to run outdoors, and I cling to those daily runs as a small shred of joy and normalcy in these trying times. I hope you are able to do the same. Until next time, be well! Cheers, Ellen.
Article written by Ellen Moss, Social Media Manager, Zone Five Software Inc.