Fully Maximize Your Indoor Rides
How to use TrainerRoad with SportTracks for indoor cycling training
If you want to achieve a high-level of fitness when working out at home and you're serious about becoming a faster cyclist, you should try the excellent bike workouts offered by TrainerRoad. This is a service that provides a customized cycling regimen tailored to your specific goals and skill level. While TrainerRoad is great for biking, it doesn't provide everything you need to have a complete understanding of your fitness and race readiness. But if you also use SportTracks — you get access to an array of powerful tools that complete the experience. 
What is TrainerRoad?
TrainerRoad is an application for Mac, Windows, iOS and Android that's entirely focused on cycling training. You run the app on your computer or mobile device and it connects with your indoor training equipment via Bluetooth and ANT+. One of the central features is called Plan Builder: you add your A and B races for the year (which are all virtual races at this point), tell it how many hours per week you have to train, and lastly, you select your main riding discipline (criterium, gran fondo, time trial, etc.). Plan Builder will then generate an entire year of periodized bike workouts that you can execute indoors or out.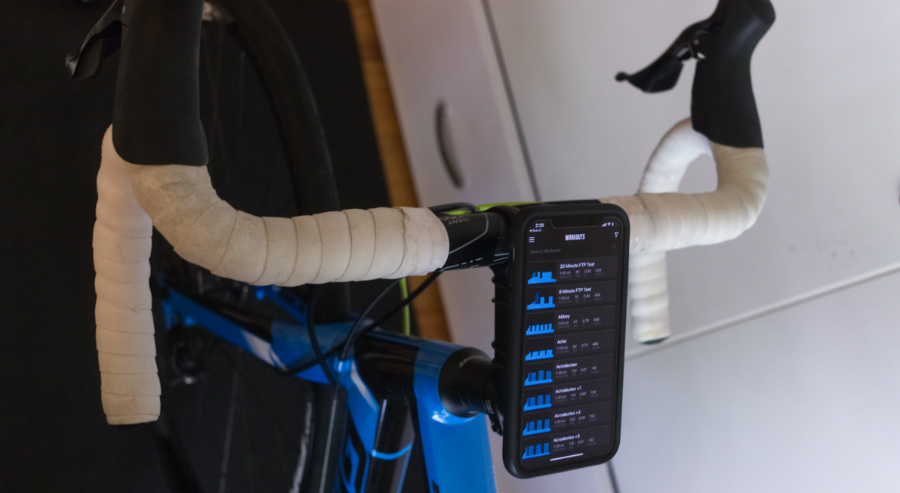 SportTracks has proudly offered automatic sync with TrainerRoad since early 2015, and once you have our integration set up your TrainerRoad workouts automatically appear in SportTracks after you complete them, where you can then deeply analyze the data. If you do any sports besides cycling — such as running, swimming, hiking, and so on — they will not appear in TrainerRoad, but in SportTracks all of your activities are presented and count toward your easy-to-use Training Load and Performance charts.
How does SportTracks enrich your training?
In addition to providing industry-leading swim workout data analysis, innovative run-workout charts (such as automatic hill-detection interval analysis), there's a lot more that SportTracks brings to the table to round-out your training and racing experience:
Coaching Support - While the Plan Builder feature in TrainerRoad is useful for getting a large number of tailored cycling workouts quickly, automated tools like these do not replace the role an experienced coach can play in your fitness. SportTracks offers full coaching support, so an experience pro can plan your training calendar, analyze your workouts and much more.
Always Multisport- Many other platforms start out focused on one sport and slowly start adopting others as they go forward. SportTracks has been multisport focused since day one, and it shows. With deep analysis and planning tools for cycling, swimming, running, and many more endurance sports, none of your disciplines will be an afterthought.
Injury and Gear Tracking - Your training log should be as detailed as possible, and if you get injured, tracking your recovery is important information for your training history. That's why SportTracks provides comprehensive injury and sickness tracking. Likewise, it's wise to track usage of your gear to avoid injury and breakdowns, so flexible gear tracking is provided.
Notes and Messaging - Every workout in SportTracks has a private notes area where you can keep a record of what happened and any details that will be helpful to know in the future. There is also a public comments section where you can share things with others and have friends leave comments. You can also send private messages to your contacts and coach. 
How does TrainerRoad enrich your training?
Similar to how SportTracks provides many features and capabilities that are not found in TrainerRoad, there are many things in TrainerRoad that you will not find in SportTracks. The standout feature are the guided indoor cycling workouts. In stark contrast to the enveloping, graphic-rich 3D virtual worlds you find on platforms like Zwift and RGT Cycling, TrainerRoad is all business with just live training metrics and simple graphs showing the intervals. There is no audio, but as you pedal words appear on the screen that assist you throughout the workout.
While we are true believers in human coaches, the workout text is an excellent example of how effective a virtual coach can be. TrainerRoad workouts play like a timeline, and as you make your way through the words keep you focused. They are filled with insightful tips and help you stay relaxed while still putting in hard efforts. All of the text was written by TrainerRoad head coach Chad Timmerman, and it's uncanny how spot-on the advice can be. It will say things like "Remember, don't slouch forward during this part of the workout," and you will be slouching forward and immediately sit up. I often find myself pausing my music and podcasts so I can pay full attention to the words.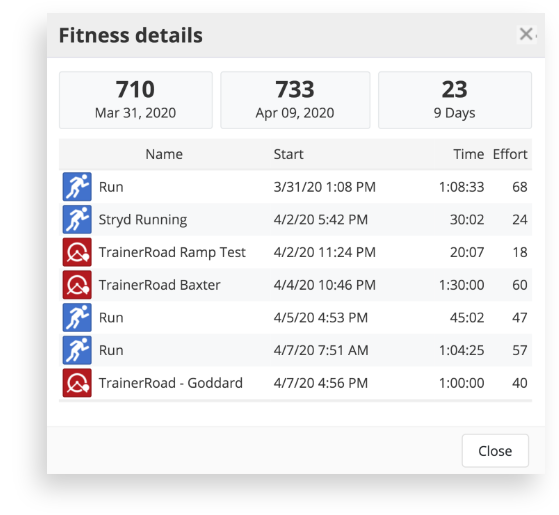 Dragging on your SportTracks Training Load chart opens a card with the selected workouts
Workout analysis differences 
TrainerRoad offers post-workout analysis of your ride data, but their approach is quite different. You get key information like Normalized Power®, cadence averages, and interval summaries, but the data is intentionally limited. The idea is that they don't want to distract you with any data they feel won't help you get faster. It's an interesting approach, but we see things differently.
At SportTracks, we've always worked hard to make workout analysis as easy and straight-forward as possible. We believe if you want to take a hands-off approach to your training, then you should be able to do so. But if you want to dig into your data and experiment with how you can improve, then you should be able to easily do that, too. Training metrics tend to appeal to data junkies, and we celebrate them.
As far as having a serious, performance-focused cycling platform goes, TrainerRoad is hard to beat. But if you also the want the ability to dig deeply into your metrics and have advanced tools for managing your runs, swims, and data from many other sports, SportTracks is a truly excellent companion.
Article written by Sam Mallery, Director of Marketing, Zone Five Software Inc.