Garmin Forerunner 745
What's different about the Garmin Forerunner 745 sports watch?
The new Forerunner 745 is the latest multisport watch from Garmin, but it will likely appeal to more than just triathletes who want a lightweight yet powerful device. It features a built-in altimeter and a blood-oxygen monitor that make it an excellent option for the endurance runner, swimmer, or cyclist who also likes to ski and hike deep into the wilderness. Plus, it has some new and genuinely useful capabilities that have never been included on a Garmin sports watch before. Let's dig in...
To fully understand the Forerunner 745, you need to first identify where it stands in Garmin's product lineup. It exists as the mid-level multisport watch, with the Forerunner 945 and premium Fenix 6 series being above it, and the 4.5 year old Forerunner 735XT remaining as the entry-level option. Weight weenies take note: the new 745 is both smaller and more lightweight than both the Forerunner 945 and Fenix watches. Every gram counts in long events, and the 745 will save you a few.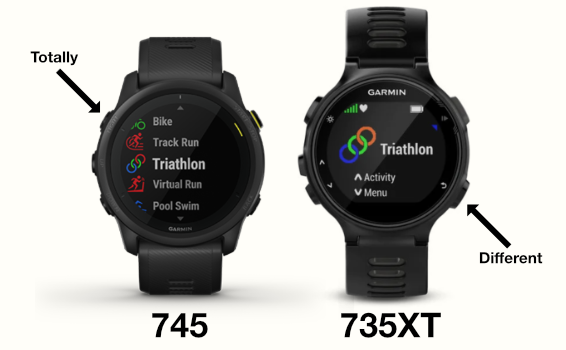 What's new in the Garmin Forerunner 745?
Even though the 735XT is still available, the Forerunner 745 stands as its replacement, and the update is substantial. Instead of flattening out on the top and bottom, the new 745 features a fully round display with a durable Corning Gorilla Glass DX lens. It has storage for up to 200 hours of activity data (up from 80), plus the ability to store and playback music to Bluetooth headphones. A Garmin Pay NFC chip is also present for making contactless payments, which is quite useful these days.
One of the standout features are the Daily Workout Suggestions. Every day the 745 will suggest specific workouts based on your current fitness level. The activities will be different for each of the various sports modes, from indoor cycling to open-water swimming, but the overall goal is the same — to provide the most appropriate intensity level based on your present physical state. This is the first Garmin watch to get this compelling new feature, and surely not the last. In fact, it was already added to the Forerunner 945 in a recent firmware update.
Another feature that debuted with the 745 but was quickly added to other Garmin watches is a new Track Run mode. This provides much more accurate distance measurements and maps when you work out at the running track. A couple of laps as a warmup helps the 745 nail down the specifics of your track, after that it nails the metrics of your workout — down to the specific lane you ran in.
Another update to the 745 is the inclusion of the Garmin Elevate optical array with a heart-rate monitor and Pulse Ox sensor. The latter measures blood oxygen saturation, which can provide more accurate and detailed sleep-tracking data, and tell you how your body is acclimating when working out in higher elevations and altitudes.
How is the Garmin Forerunner 745 different?
What makes the Forerunner 745 a multisport watch is that it has activity profiles for triathlon and swimrun. These, in addition to open-water swimming, are not found on the more affordable yet powerful Garmin Forerunner 245. However, these features are not needed by everyone. In fact, many people found the Garmin Forerunner 245 to be appealing but wished it had a built-in altimeter. Why? So it could provide specialized data, such as:
Reliable altitude information during hikes
Detailed ski-run data
Compatibility with Garmin Running Power
The inclusion of a built-in altimeter on the new Forerunner 745 makes this new watch an excellent solution for this type of user, without needing to jump up to the more expensive Forerunner 945. And of course, running power data, skiing workouts, and hikes that you've tracked are all fully supported in SportTracks. The 745 also provides advanced VO2 Max prediction and Training Effect data, both of which you can analyze in SportTracks.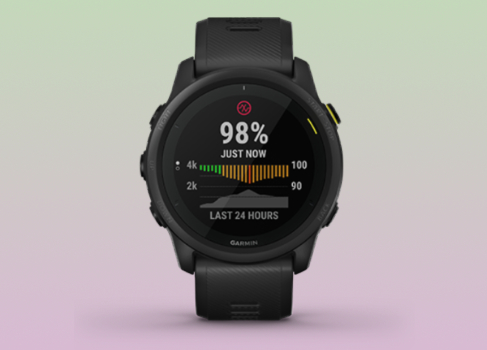 The 745 has full access to Garmin's Connect IQ app ecosystem, which means there are hundreds of apps, data fields, and watch faces available for it. But this model ships with a new kind of face that displays your current training load status. Being able to see your training load every time you glance at your watch is a thoughtful use of training data.
It should be noted, however, that this will only be based on stimulus recorded by Garmin. If you also track workouts with other brands of bike computers, rowing machines, fitness apps, and others, the fitness level displayed will be incomplete. This is where a platform like SportTracks is truly beneficial. It pulls data from a variety of sources to assemble the most accurate fitness and fatigue charts possible, and allows you to enter in races and other events so you can easily visualize when your performance will peak.

All told, the new Garmin Forerunner 745 is an excellent all-around multisport watch. It provides extended battery life for long workouts and races, and is loaded with advanced capabilities and fitness sensors Plus, you'll appreciate its compact and lightweight body on your many endurance workouts. If you need full mapping for navigation and a sleek metallic body that pairs well with business attire, you need to look elsewhere. Otherwise, the 745 looks like a winner. 
Article written by Sam Mallery, Director of Marketing, Zone Five Software Inc.