Trim Your Workout
Correct sensor or GPS problems with trim and split feature
At SportTracks we value letting you control your data. Which is why from Day 1 of our launch we've been more than just a "viewer" and offered robust editing options — for when a sensor dies, your GPS glitches, or you just forget to hit stop at the end of a ride. Today we release a new feature that allows you to trim sensor data that your device records or split workouts entirely in two.
This isn't a big complex feature or one you will use very often, but it's nice knowing that it's there if you need it. The most common scenario we see that calls for trimming is when an athlete forgets to turn off their GPS after a run, ride, or swim. Once your workout lands in the system you'll see a time and distance that is way too long, a section at the end where your speed suddenly jumps, or a GPS trail that wanders off. Fixing this is easy.
...using the new trim feature will recalculate any summary and performance metrics...
And importantly — using the new trim feature will recalculate any summary and performance metrics (including effort, normalized power and level pace) using the trimmed sensor data, so you don't have to manually update those like you would if you just edited the time or distance.
From the workout details view click the Edit button to open the edit menu and select the new Trim Workout option:

You can trim and discard recorded sensor data from either the start or end of a workout, or you can split the workout in two pieces at a particular point in time. For indoor (trainer/treadmill) or GPS based workouts you can select an exact time to trim to. For pool workouts the trim time is limited to the ends of pool lengths; you cannot trim a pool length in the middle.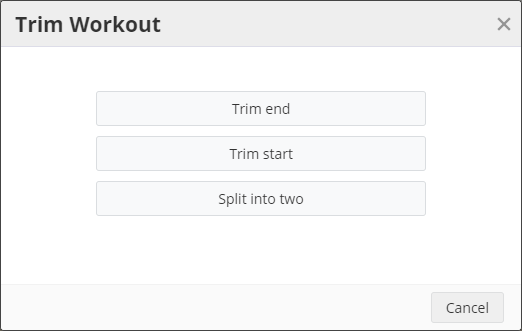 Select the time you want to trim or split at using the slider or enter a specific time. If your workout was recorded outside or has footpod or speed/cadence distance info you can also see the distance at the trim time.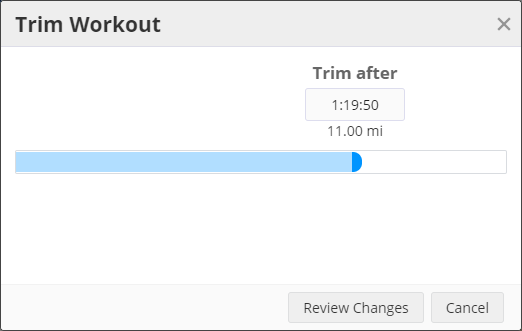 Click Review Changes to advance to the last step of the trim action. As the warning states any changes you make are permanent and can't be reversed; double check the details before you click ok!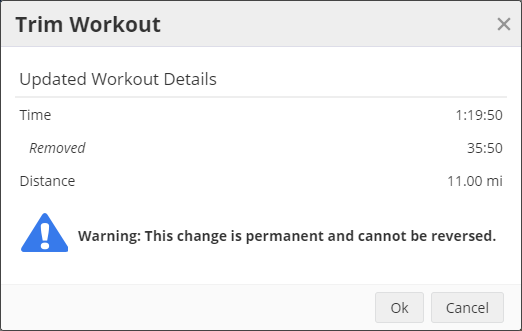 After you click ok, a few things happen:
Your total time and distance is trimmed at the value selected
All sensor data is trimmed to the range selected
Laps are trimmed to the range selected, including splitting any laps necessary
Summary metrics for the workout and any trimmed laps are calculated
If a "split" option was selected, the trimmed data is saved to a new workout.
Our new split and trim feature continues the mission to put you in control of your data. It's the kind of tool that everyone needs from time to time, yet it's sorely missing from the majority of competing platforms. We care deeply about your experience using SportTracks, and we want to give you every tool you need. Enjoy your new workout trim feature, and look forward to what we're working on next!